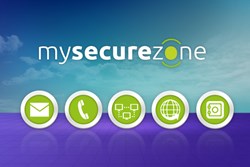 Budapest, Hungary (PRWEB) November 25, 2013
Military-grade encrypted communication for the public may soon become a reality with startup company MySecureZone all set to launch an array of user-friendly IT security solutions, including encrypted email, voice calling, instant messaging, VPN, and Web browsing services hosted on Swiss servers. In order to garner financial support to finish the development and increase the capacity of these "first-of-their-kind" services and then roll them out to the whole world, the company has launched a campaign international crowdfunding platform Indiegogo.
As a part of their crowdfunding campaign, MySecureZone is offering special edition packages of their services, including a lifelong subscription to their encrypted email or secure Web browsing services for $119 USD and an All-in-One Lifetime Package (which is comprised of a lifelong subscription to their secure email, voice calling, instant messaging, VPN, and web browsing services), that will not be available after the campaign ends on December 10, 2013.
MySecureZone has chosen to host their servers in Switzerland, which is famous for its privacy and personal data protection. With their servers located outside the U.S. and the E.U., the company is not obliged to log any calls or share user data with anyone. As such, all users remain completely anonymous, and MySecureZone can stick to their absolute "No Log policy".
Attila Krocsek, CEO of MySecureZone, said, "Our goal is to cover the entire spectrum of Internet communication to guarantee our users 100% privacy when they're online. To prove to the world how confident we are about our security system, MySecureZone is also announcing a global "Hacker Challenge," in which hackers are invited to try and break in to our web based encrypted email sending and reading solution framework, with the winner receiving a 5% stake in the company."
Istvan Balazs, CTO of MySecureZone, said, "Our innovative web based encryption framework solution will provide far more secrecy, privacy and data integrity than regular encryption methods. "
My Secure Email
This secure, user-friendly, web-based email encryption system enables users to send password-encrypted emails to anyone in the world, using any email provider, without the recipient having to install any special software. In fact, the system only sends a notification containing a link to the company's Web-based Encrypted Email Reader Interface—the email doesn't actually leave the server. When the receiver opens the link, a strong, encrypted connection is established, allowing the receiver to read the email via PKI+SSL+X(symmcrypt) encryption algorithm without needing to install PGP or crypto software.
To learn more about MySecureZone and receive some great perks for making a contribution, visit http://www.indiegogo.com/projects/mysecurezone-military-grade-encrypted-communication-for-you.
About MySecureZone:
Operating servers in Switzerland and 20 months into development in Budapest, the team of MySecureZone is comprised of ethical hackers and programmers. This startup company provides user-friendly, secure, and encrypted communication services—email, voice call + IM, VPN, and Web browsing—supported by Swiss servers. They have also developed a real two-factor authentication solution called "My Secure Authenticator."
Press release contact
Nesztorasz Zoikasz,
Marketing Director
mysecurezone.com
Toll-free phone: +1 (866) 327-1510
E-mail: press(at)mysecurezone(dot)com