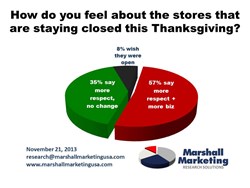 57% of respondents said they respect stores remaining closed on Thanksgiving more and will give them more of their business!
Pittsburgh, PA (PRWEB) November 21, 2013
The slice of holiday spending from the Thanksgiving pie will be small for those stores creeping into the family holiday. Marshall Marketing conducted an opinion poll to establish whether retailer's attempts to draw consumers away from their Thanksgiving celebration and into their stores would pan out next week. Based on a nation-wide poll of 564 adults 18+, the majority of shoppers are staying at the dinner table. Of those questioned, only 11% said they plan on shopping while a resounding 79% said they do not plan to shop on Thanksgiving (10% were still undecided).
What's telling is how respondents feel about the stores who will open on Thanksgiving. When asked, "does a store open on Thanksgiving make you like the store more or less," 45% responded LESS. Only 8% said they like the store more while 29% said it will cause no change in how they feel.
Many stores, such as Costco and Nordstrom, have chosen to buck the new trend of opening on Thanksgiving. Marshall Marketing asked respondents how they feel about those retailers staying closed on the holiday and 57% said they "respect them more and will give them more of their business." A little over a third (35%) said they respect those retailers, but it won't necessarily affect their shopping habits. Only 8% wish those retailers would open because they plan to shop.
Marshall Marketing conducted this poll by telephone with the voice of a professional announcer. Respondent households were selected at random, using Random Digit Dialed (RDD) sample provided by Survey Sampling of Fairfield, CT. Because this poll was automated, all respondents heard the questions asked identically. This particular poll contacted a national sample on Monday and Tuesday, November 18-19. Those who responded are not demographically representative of the population.
Marshall Marketing specializes in consumer research, analysis, consulting and sales training. For the past 28 years, they have been conducting local, market-exclusive consumer studies, as well as national studies, for retail and media clients across the US. Headquartered in Pittsburgh, PA, Marshall Marketing has regional offices in Washington, Florida, Tennessee and North Carolina. The company conducts over 75,000 consumer interviews annually and strictly adheres to accepted and proven methodological practices.