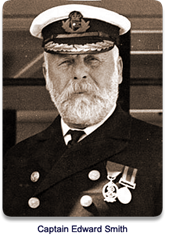 There never was a nobler or braver man who walked a ship's deck than Capt. Smith, and I know whereof I speak.
Savannah, GA (PRWEB) November 27, 2013
History Links the Forsyth Park Inn to the Steamship Titanic:
Forsyth Park Inn, located in the hospitality city of the south, Savannah, Georgia announced a revelation made recently about its link to the infamous steamship Titanic and its captain, Edward J. Smith.
Originally owned by steamship Captain Aaron F. Churchill from 1893 until the 1940' as a private residence, the Forsyth Park Inn has a colorful history, but, according to the owner Lori Blass, no one was aware that Captain Churchill and Titanic Captain Smith were close friends until a Churchill family member came to stay at the inn and brought a fateful letter. The letter, addressed to Smith from Churchill advised Captain Smith to retire and not run the Titanic's maiden voyage. Captain Churchill, originally from Nova Scotia, and then Savannah, Georgia was on every ocean voyage that Titanic Captain Edward Smith had made, except for the Titanic's maiden voyage.
April 12, 1912, the Savannah News printed an article of a conversation Churchill reportedly had with Smith. Captain Aaron Churchill, a Savannah resident at the time, reported his conversation with Captain Smith warning him on the last trip the two captains had taken on the Olympic, the largest steamship of its time, that bad luck would overtake Smith and advised him to retire before it came. Churchill, knowing Captain Smith never had an accident in over 30 years of service on passenger steamships, felt Smith was over age and should retire on his good record. Captain Smith said to Churchill: "Churchill, I would like to take your advice, but I am well and strong and have a great deal of ambition to command the two largest steamers in the world before I retire."
The Churchill family moved from Nova Scotia and resided at the now Forsyth Park Inn which has been running continuously as an inn since the mid 1980's. The history its current owner knows of the Churchill family is that they are related to Winston Churchill, that Aaron Churchill was an accomplished sea captain with a nickname of "Rudder Churchill", that during his time in the Savannah, he was known to be the strongest man in town, involved in the cotton and steel industry, and now we know his strong connection with Titanic Sea Captain Edward Smith. History buffs staying at the Forsyth Park Inn will delight in this newly revealed connection.
Known for its romantic weddings and park side setting, the Forsyth Park Inn, located in Savannah's landmark historic district, has flanked renowned Forsyth Park since 1893 when Aaron and Lois Churchill arrived from Nova Scotia to take up residence in Savannah.
To learn more about the inn, visit us at http://www.forsythparkinn.com.
About Forsyth Park Inn
This grand 12 room Queen Anne Victorian mansion dressed with a proper southern verandah for relaxing and sipping sweet tea, became an inn in 1985, Lori and Richard Blass being the second owners since 2000. The inn is known for its architectural features reminiscent of a sea captain, walled private garden, intimate garden weddings, southern hospitality and its friendly staff.