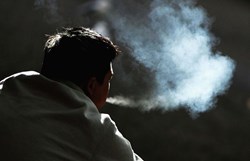 Change is always possible, sometimes it just needs a little nudge from behind.
Washington, DC (PRWEB) November 21, 2013
It is no secret to anyone that smoking is harmful to a person's health. This fact spins around anti-smoking campaigns like a broken record, and it often falls upon deaf ears. Walk down any major street in any city and one can more than likely spot people outside for a quick break, or smell the scent of burning tobacco from whatever direction the wind is blowing from. Others have it in their own home, whether they are the smoker, or the person closest to them is.
They may wonder how to best address this addiction, especially when the CDC estimates that 5 million deaths can be attributed to this bad habit per year. With that in mind, Dr. Sanjay Jain offers four tips on how to address the smoker in a person's life.
1) Don't get angry: Confronting someone about their smoking is going to make them defensive. Their body wants the chemicals in the cigarette, and by taking that away a person is denying what their body is asking for. This will cause irritation and anger, often just by mentioning it. Instead, ask if concerns can be discussed, and even if the person with the addiction becomes upset, keep calm.
2) Expect them to get upset: Their anger will come from two places. One is when they don't want to quit smoking, and they feel as it judgment is being passed on their life. The other is when they know they shouldn't smoke, would like to quit, but simply can't. Don't underestimate the hold that nicotine can have on someone. It's not like heroin, but it is still a strong addiction none-the-less.
3) Be supportive: Support needs to take the place of breaking their habit. Instead of trying to tear down whatever internal constructs keep them smoking, focus instead of building a new structure of support. Showing that you care is extremely important in this step, as quitting smoking is letting go of a comfort system.
4) Recruit help: This is a team effort. This may involve not on family and friends but also help from a medical professional. A doctor can prescribe medications to help with some of the withdrawal symptoms. There are also many products available over the counter at your local pharmacy or grocery store, including various nicotine patches, lozenges, and gum.
"Change is always possible, sometimes it just needs a little nudge from behind." – Sanjay Jain
About Dr. Sanjay Jain:
Doctor Sanjay Jain, M.D. is an accomplished medical doctor, wellness expert, life mentor, inspirational keynote speaker, and author who has dedicated his life to helping people find their purpose by achieving a meaningful life that they deeply cherish.
Sanjay Jain is a US trained, board certified physician with over 15 years of clinical experience. He holds certifications in Diagnostic Radiology, Integrative Medicine, and Healthcare Quality and Management. He is a graduate from the accelerated BS/MD program at The Northeast Ohio Medical University. He has diversified experience in the private practice, academic, and HMO settings.
He was a former assistant professor at The Ohio State University Medical School where he also obtained his MBA at the Fisher School of Business. The combination of these two degrees has given him a unique voice and understanding of the many issues we face today in a real and practical sense. He is author of the book, Optimal Living 360, due for release in Feb 2014 by Greenleaf Books.
For more information, please visit http://www.sanjayjainmd.com.