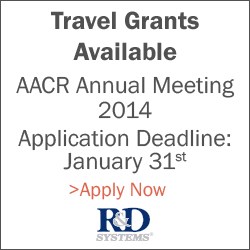 Minneapolis, MN (PRWEB) December 04, 2013
R&D Systems, a leader in the development of high-quality proteins and immunoassays, is pleased to announce its sponsorship of 10 travel grants for scientists attending the 2014 American Association for Cancer Research Annual Meeting. The $1,000 awards support researchers working in academic or nonprofit institutions, and applicants need not be AACR meeting presenters to be eligible. Meeting attendees are invited to apply for the travel grants via the R&D Systems webpage: http://www.RnDSystems.com/AACR2014.
Applications are due January 31, 2014. Winners will be determined by random drawing and announced on February 12, 2014. Further information on the awards can be found on the online application page.
The American Association for Cancer Research celebrates its 105th annual meeting in San Diego, California on April 5-9, 2014. R&D Systems representatives will attend and welcome inquiries from cancer researchers.
R&D Systems offers a brand range of high-quality reagents that support cancer research, including over 12,000 antibodies, cell selection and multicolor flow cytometry kits, and the most-referenced collection of bioactive proteins and immunoassays in the industry. R&D Systems also carries a wide variety of multiplex assays, offering a choice of platforms for the simultaneous detection of multiple analytes.