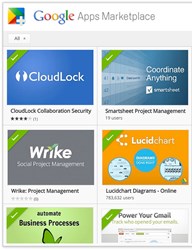 AppsCare have a wealth of experience working with third-party applications for Google Apps.
(PRWEB UK) 22 November 2013
There are thousands of third-party applications which integrate seamlessly with Google Apps for Business, allowing organisations to do more on the web and accomplish specific business tasks.
Earlier this week, Google announced that they are making third-party applications easier to find and more secure by allowing administrators to manage and deploy these apps directly from the Google Apps Admin console. To start, over twenty third-party applications will be available in the Admin console, all offering the latest OAuth 2.0 security, single sign-on (SSO), and integration with Google services.
AppsCare's Google certified engineers have extensive knowledge of the Google Apps Marketplace giving them the ability to advise clients on the most valuable applications for their organisation.
Andrew Martin, Sales Director, AppsCare said: "Google launched the Apps Marketplace in March 2010 providing an ecosystem of complementary third-party applications for Google Apps. Our teams have a wealth of experience working with these applications and are therefore perfectly positioned to advise on and deploy tailored solutions to clients."
Popular third-party apps include Cloudlock (the leading information security suite), Backupify (a daily backup tool) and Smartsheet (an intuitive online management tool).
For further information about third-party applications and how to integrate them into your existing toolset, contact AppsCare.
About AppsCare
AppsCare®, Google Enterprise Premier Partner is a world leader in cloud services provisions, supporting over 2500 customers in 33 countries. AppsCare® comprise 10+ years experience deploying technical solutions for organisations of all sizes and geographies utilising their GStall delivery methodology and AppsCare® support programmes. Their engineers were some of the first to achieve both Google Apps Certified Deployment Specialist (GACDS) and Cisco IronPort Certified Security Specialist (CICSS) accreditations providing unrivalled expertise in their customer care teams.