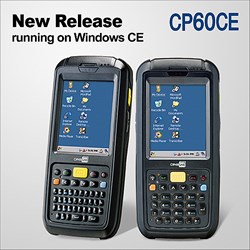 The CP60 Windows CE version has upgraded to a certified IP67 as well which is a very high standard. It fully eliminates any ingress of dust, has complete protection from contact and protects the device from liquid immersion up to 3 ft.
Plano, TX (PRWEB) November 21, 2013
CipherLab is thrilled to announce that the CipherLab CP60 is now ready to be ordered. The CP60 CE version is our CP60 device running on the option of Windows CE operating system which is specifically designed. With specifications that are geared towards your needs, the CP60 CE version could consolidate programs that fit your mobile computer demands. This makes the device versatile which ultimately translates to more output per dollar in investment. The CP60 CE version is the perfect valued device for deployment in the business to get the most productivity for the investment.
For more details and specifications regarding CipherLab Mobile Computers and Barcode Scanners or request for demo, please send an email to NASales(at)cipherlab(dot)com or contact CipherLab USA at 888-300-9779 by phone.
About CipherLab
CipherLab is a global leader in the design, manufacture, and marketing of Automatic Identification and Data Capture/Collection products and systems. The company's mobile computers and scanners are integrated into the networks of some of the world's best known logistics, retail, distribution, government installations and healthcare companies, helping them run more efficiently and effectively onsite and on the road. CipherLab USA is headquartered in Plano, TX. For more information, please visit http://www.cipherlab.com or like us at http://www.facebook.com/CipherlabUsa.