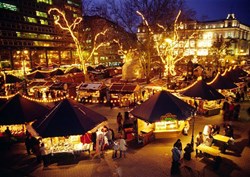 The Budapest Christmas Fair is one of the premier highlights of Christmas tourism across Europe.
(PRWEB UK) 22 November 2013
TravelhouseUK brings forward fresh Christmas flight deals and packages to be availed for its clients based in the UK. Promoting every opportunities of leisure travel every holiday season, the agency is also offering special travel deals to attend the Budapest Christmas Fair in Hungary.
Bargain deals and flights to Budapest are being operated under major European air operators. Austrian Airlines, Alitalia, Swiss Air and Lufthansa are covering flights to Budapest this season which are available for booking under TravelhouseUK.
The Budapest Christmas Fair is one of the premier highlights of Christmas tourism across Europe. The fair consists of hundreds of stands and stalls temporarily established within the central Vörösmarty Square of Budapest, Hungary. Apart from exhibiting the traditions and cultural values affiliated with the local community, the general celebrations of Christmas are brought to light under great zeal and meticulous effort. Under influence of the cold draught of winters, Budapest falls under the Christmas charm of snow-capped streets and roofs. Hot servings of beverages and meals become popular for sales, with cafes providing entire drums and pots for the crowds.
Snacks and eatables hailing from Hungarian cuisine include kenyérlángos (roasted flatbread with customized combinations), töki pompos (baked dough) and kurtosalacs (sweetmeat). Small festivities are also held at popular spots within the square, which are mostly large shops and cafes. Folk dance performances by children, musicals by local instrumental bands and choirs are made publically available for all the fair visitors to attend.
The time bracket of the fair is kept wide, starting from the end of November to continue all the way till the end of December, allowing overseas visitors to conveniently reach before Christmas on whatever time which suits them. It also allows visitors to make a pre-Christmas stop at the event during the stretch of vacations in the season, before carrying forward to other destinations. All amenities, food, accommodation and commute are easily available, since the square is in the heart of Budapest with numerous hotels active for business. The stalls are open from morning till night, starting to shut down early at 8 due to the cold winter nights. This year the fair will start off from the 27th of November and end on the 31st of December.