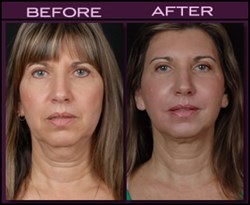 Precision Treatment offers patients an option that previously never existed when it comes to a non-surgical facial rejuvenation procedure with long lasting results.
Wyomissing, PA (PRWEB) December 03, 2013
Facial rejuvenation results normally found through a traditional face lift are now available with a significantly less invasive treatment called Precision Treatment. Dr. Alex Balaci of Skin Care Solutions, a skin care practice in Wyomissing and Lebanon, PA, is now offering this facial rejuvenation procedure, which offers patients the most comprehensive opportunity to turn back the signs of aging with the longest lasting results – five to ten years – of any other non-surgical facial rejuvenation procedure.
Precision Treatment is a SmartLipo laser face lift that tightens skin, lifts the lower face, smoothes wrinkles and restores the youthful curve to the neck. This age reversal treatment is done completely with a specialized laser and therefore no scarring occurs. As an oral and facial surgeon, Dr. Balaci brings a specialized skill to this procedure.
Facial aging is often most noticeable in sagging jaw lines, jowls, wrinkles and fine lines. As skin loses elasticity, fat pads slip from their youthful position and supporting tissues begin to droop. With Precision Treatment, patients can enjoy all of the benefits of a traditional facelift without any of the risks or downtime associated with a long, invasive procedure. In addition to treating visible signs of aging, Precision Treatment also continues to lift and tighten long after the procedure is over, allowing patients to achieve a younger-looking physical appearance even as they chronologically age.
"Precision Treatment offers patients an option that previously never existed when it comes to a non-surgical facial rejuvenation procedure with long lasting results," said Dr. Balaci. "The SmartLipo laser face lift results last five to ten years – the longest of any other non-surgical face lift procedure."
About Skin Care Solutions
Under the direction of Doctors Alex Balaci and Charles Givens and aesthetician Lisa Joachim, Skin Care Solutions considers a patients complete skin and facial structures to improve total skin quality, lines and wrinkles and other skin concerns. Skin Care Solutions has two locations at 955 Berkshire Boulevard, Wyomissing, PA - (610) 373-7823 and 860 Tuck Street, Lebanon, PA - (717) 273-6745. http://www.SkinCareSolutionsPA.com