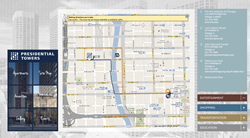 Studies show that walkability can be a major factor in where a prospective resident chooses to live.
Denver (PRWEB) November 25, 2013
Engrain (http://www.engrain.com), the leading provider of virtual tour and resident interaction systems, today announced the addition of two new features to its TouchTour product. Systems can now display walkability scores to prospective residents, and residents can get walking directions, distance and estimated walk time to any point on the neighborhood map.
"Studies show that walkability can be a major factor in where a prospective resident chooses to live," said Audrey Bolema, marketing and business development director at Engrain. "Convenience, health benefits and fuel savings are just a few of the reasons people flock to walkable neighborhoods. So when a property in an area that has a high walkability score makes that information available through TouchTour, it can give them a distinct competitive advantage over communities in less pedestrian-friendly places."
The TouchTour system is used by prospective residents and sales/leasing agents to provide in-depth virtual property tours, local area information and other services. The large (42" to 70") multi-touch panels feature customized branding and a unique user interface for each property.
"Residents, especially those new to the area, love the ability to walk up to a TouchTour panel on their way out of the building, find their destination and instantly get walking directions. There is also a marker available to map driving directions if traveling by vehicle," adds Bolema. "Our enhancements to the TouchTour system are, more often than not, a collaboration with our clients. These new features are no exception. Everyone involved recognized the value of extending the 'tour' idea out into the community."
About Engrain
Engrain is a leading provider of immersive touch screen technology and award-winning digital branding and design services for the luxury real estate market. Its TouchTour® system is used at some of the most prestigious properties in the country. Founded in 1995 and based in Denver, the company works with clients throughout the U.S.
For more information, please contact Audrey Bolema, 303-903-3863 or audrey(at)engrain(dot)com.