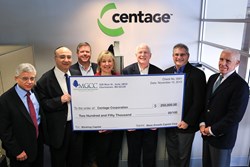 MGCC was very pleased to provide financing to support the growth and continued prosperity of Centage Corporation. The company and its employees are an integral part the economy and the community. -Neil Martin, Chief Operating Officer, MGCC
Natick, MA (PRWEB) December 03, 2013
Centage ™ Corporation, a leading provider of budgeting and forecasting software (Budget Maestro™) for small and medium sized businesses, today announced the company has received $250,000 from the Massachusetts Growth Capital Corporation (MGCC). Massachusetts State Senator Karen E. Spilka presented the check to Kamran Sassoon, CEO, Barry Clapp, President & COO, and John Orlando, EVP & CFO at the company's headquarters in Natick.
In 2010, Governor Deval Patrick signed into law an economic development bill designed to help small businesses create jobs, in part by providing greater access to capital through the creation of the Massachusetts Growth Capital Corporation. Centage Corporation was an ideal candidate for the MGCC given the company's continued emphasis on product innovation, targeted focus on supporting small to medium sized companies and commitment to job creation in Massachusetts. The investment from the state will support the company's plans to expand to a cloud computing offering, invest in international growth and expansion, and grow its employee base and office space. This year, Centage increased headcount by 15%, grew its install base by more than 1,000 users, and will grow revenues by 20-25%.
"We are grateful for the MGCC funding to support new product development, expand into new markets, and create jobs in Massachusetts," said Barry Clapp, President & COO, Centage Corporation. "As a small business, we keenly understand the unique challenges facing small business owners today. This boost in our capital provides us the opportunity to take our company, and the Budget Maestro™ product suite, to the next level. We appreciate the support of the State in our efforts to continue to provide innovative solutions to empower the SMB financial community."
"MGCC was very pleased to provide financing to support the growth and continued prosperity of Centage Corporation. The company and its employees are an integral part the economy and the community," said Neil Martin, Chief Operating Officer, Massachusetts Growth Capital Corporation.
To learn more about Centage and the Budget Maestro suite of products, please visit: http://www.centage.com.
About Centage
Budget Maestro® by Centage is an easy-to-use and install, scalable, automated budgeting, planning, and forecasting application. It is designed for small to mid-market companies and automates many of the time-consuming and error-prone activities associated with using spreadsheets to generate accurate budgets and forecasts. It features built in financial and business logic that allow users to build and update their budgets and forecasts and never worry about formulas, functions, links or any custom programming. It is the only solution in the market that offers synchronized P&L, Balance Sheet, and Cash Flow reporting that generate automatically and seamlessly update. Budget Maestro serves more than 7,000 users worldwide. Visit us at http://www.centage.com. For more information follow us on Twitter @Centage or visit our blog http://centage.com/Blog/ for the latest insights on budgeting and forecasting strategies.
About MGCC
MGCC provides a centralized resource at the state level that offers working capital, loan guarantees, and targeted technical assistance to solve specific financial and operational problems by supplementing the capital available from private financial institutions (including non-bank lenders), with the goal of promoting the creation and maintenance of good jobs.
Centage and Budget Maestro are registered trademarks of Centage.