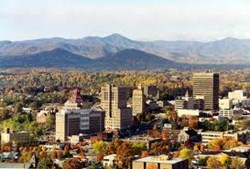 "This looks like a good project," Shuttler said. "You need something that adds to the community and that you can make money on. At first blush, this looks like it's done both."
Asheville, North Carolina (PRWEB) November 26, 2013
Asheville is poised to receive a second Whole Foods location in South Asheville, a long-awaited H&M store at the Asheville Mall, and a high rise hotel from local Asheville developer Tony Fraga, all beginning in 2014, according to announcements recently.
Last November, Whole Foods Market announced that it would reuse part of the K-Mart shopping center space on Tunnel Road to build a second, 35,000 sq. foot retail space in South Asheville. Whole Foods features local, organic, and non-GMO products, as well as specialties, like beers from breweries in Asheville NC.
Whole Foods first developed a presence in Asheville in 2010 when it bought local organic grocery store Greenlife, which still operates under its original name. The Tunnel Road location will be the first location in the area with complete Whole Foods Market branding.
The Asheville Mall announced yesterday that H &M, one of the largest international retailers, would begin development on a store in 2014, with the storefront slated to open in the fall of next year. H&M began expanding in the US thirteen years ago, and now has over 300 stores across the states. A Charlotte store will open later this month as well.
The last large development at the Asheville Mall was the two story, forty-thousand sq. foot Barnes and Noble in 2009, which required new space to be added to the building, and some other tenants to relocate their shops. However, Asheville Mall general manager stated that the H&M store would not be an expansion and that more project details will be released soon.
In October, Asheville Developer Tony Fraga laid out plans for the Cambria Suites, a fourteen-floor hotel at the intersections of Battery and Pages Avenues to a group of city officials, downtown residents and business owners, including those involved in Asheville NC breweries downtown. Fraga owns extensive properties through downtown and Asheville, including the Haywood Park Hotel and the Westgate Shopping Center.
Fraga proposed a high-rise condo tower and 25 story hotel with smaller shops around it in 2008, but it was shot down because of the large amount of construction and displacement it would cause. However, this project's simpler design has found many supporters. Richard Shuttler, a resident of the Vanderbilt Apartments who attended the October meeting, told the Mountain Xpress he supports Fraga's efforts due to the new building's simpler design.
"This looks like a good project," Shuttler said. "You need something that adds to the community and that you can make money on. At first blush, this looks like it's done both."
Fraga stated that the new hotel would create approximately 100 jobs and $28 million in revenue during construction for the Asheville economy. Plans are currently preliminary, and formal designs have yet to be submitted to the city of Asheville. Fraga hopes to break ground by April or May 2014, and open the doors of the Cambria Suites by Spring 2015.
This press release was created by Element-360, the local Asheville online marketing firm behind online real estate development campaigns across the globe. Through tactical and research based strategy, E-360 supports our clients' growing sales. Using search engine optimization, PPC marketing and technology integration, Element-360 ensures maximum lead generation and improved usability.