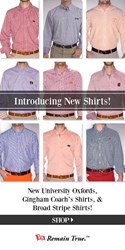 Gainesville, Florida (PRWEB) November 23, 2013
Since it's inception in 2005, Pennington & Bailes quickly became established as the purveyor of classically designed collegiate apparel with the introduction of the now iconic Stadium Pant and Stadium Skirt. The widely popular initial "Stadium" line of pants, shorts and polos has worn by some of the biggest names in collegiate football, ranging from legendary coaches to passionate boosters.
Remaining true to conservative styling with a dash of panache and the highest standards of materials and construction, the men's line now features button downs including the gingham Coach's shirt, the Broad Stripe and the University Oxford. Equally versatile is the five pocket solid chino to pair with the traditional Polo styles or new collection of button downs.
The latest collection of the Women's line has re-introduced the widely popular Polo Dress with new design and materials while also introducing the feminine variation of Coach's Shirt, the Button down Classic and solid color stadium skirts. The Children's line features Stadium Pants, shorts and dresses for the smallest discerning sports fans.
In addition to the broad range new styles, Pennington & Bailes now features apparel from over 40 colleges and universities with plenty more to come in 2014.
Pennington & Bailes is a family owned and directed collegiate apparel and accessories company founded as the first company to offer college football fans classic alternatives for fashionable, high quality game day dress. Pennington & Bailes has evolved into a lifestyle brand offering timeless clothing and accessories for every arena of one's school, club, casual and sporting life activities. From the pieces themselves to the cut, fit and substantive details, Pennington & Bailes clothing and accessories reflect and project authenticity and the unmistakable expression of one's own American Classic life.