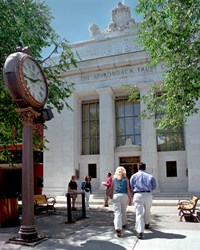 Saratoga Springs, New York (PRWEB) November 22, 2013
The Adirondack Trust Company announced today that it has been named the top active Small Community Bank Lender in the Capital Region for a record thirteen straight years and in the 34-county Syracuse District for seven consecutive years.
Small Business Administration Syracuse District Director Bernard J. Paprocki recently announced that in the category for Small Community Bank Lenders, The Adirondack Trust Company was the most active lender (number of loans originated) in the Capital Region for the fiscal year ending September 30th, 2013. For thirteen straight years, The Adirondack Trust Company outperformed all other SBA 7(a) small community bank lenders in this region. The Adirondack Trust Company approved 31 loans worth $1.6 million to Capital Region startup and existing small businesses.
Commenting on this performance, Charles V. Wait, President & CEO noted: "We are extremely pleased to receive this designation, now for a record thirteen straight years. Since our founding in 1901 The Adirondack Trust Company has been committed to helping small businesses grow. It is gratifying to be recognized by the SBA Syracuse District as the top small community bank lender each and every year that these records have been kept. Small businesses are the backbone of the communities in which we operate and through the SBA, we are able to provide financing to businesses to facilitate their growth thereby increasing employment opportunities for our local citizens."
"Strong relationships with our lending partners are essential in providing small business owners with increased access to capital. With continued partnership, Capital Region entrepreneurs can continue to invest in their businesses and communities," SBA Syracuse District Director Bernard J. Paprocki said.
The SBA Capital region covers the following counties: Albany, Clinton, Columbia, Essex, Greene, Rensselaer, Saratoga, Schenectady, Schoharie, Warren, and Washington.
The Adirondack Trust Company is an independent, locally owned and operated, community bank offering a wide variety of business and personal financial services. The bank has over $1 billion in assets and twelve branch offices. The Bank offers, banking, trust, insurance and investment management services and originates real estate mortgages, both residential and commercial, and commercial business loans throughout its primary market area. The Bank's website is http://www.adirondacktrust.com.
###
The Adirondack Trust Company
473 Broadway
Saratoga Springs, NY 12866
(518) 584-5844