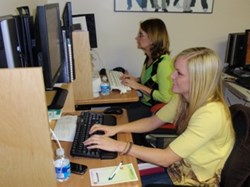 ... and some just want to tell their story to someone that will take the time to listen and offer compassion.
Spring Hill, Tennessee (PRWEB) November 25, 2013
Locally headquartered national ministry, Dawson McAllister Association (DMA), announced today that it has established collaboration with NGEN radio, a station of KSBJ. KSBJ is one of the nation's largest Christian radio broadcasters headquartered in Houston, Texas. DMA, founded by Dawson McAllister and long-time provider of TheHopeLine.com, will provide services to NGEN radio by answering online, one-on-one chats and telephone calls from the station's listeners. These listeners, the "NOW" generation, are seeking help with an array of issues, problems or prayer needs.
"A member of the KSBJ family, NGENradio.com focuses on bringing hope and healing to a large audience in need, the young generation of 12-24 year olds looking for a purpose. Collaborating with them makes perfect sense in that we both seek to see this generation released from despair and restored to clear thinking and right values," says Tim Altman, CEO of Dawson McAllister Association.
"TheHopeLine has been averaging double-digit callers and chatters originating from NGEN radio since our launch," says Dave Anderson, Director of Rescue for DMA. Anderson continues, "Some folks want prayer, some folks want help thinking clearly, some folks want to make a connection to a partner that can help with specific issues and some just want to tell their story to someone that will take the time to listen and offer compassion. We are honored to collaborate with NGEN radio in their efforts to offer hope to people in need."
About Dawson McAllister Association:
DMA was founded in 1973 by Dawson McAllister. Dawson has been speaking to and on behalf of teenagers and young adults for over 40 years. As an author, radio personality and public speaker, Dawson has literally impacted millions of young Americans. The Dawson McAllister Association founded TheHopeLine, the rescue arm of the ministry, 21 years ago. TheHopeLine.com offers a listening ear, encouragement and biblically based advice of clear thinking and right values to callers and chatters from around the globe. TheHopeLine works with 20 vetted, strategic partners by connecting these partners to teenagers and young adults searching for specific services and resources that address their need.
Check out our eBook, Bullying ... the Tool of Cowards.
About NGEN radio:
Playing today's hit Christian music, NGEN radio is an on-air, online and digital music entertainment experience for people who want Christian music with an edge. The station is designed to capture the energy of the "NOW" generation and power a world of good through connection and community outreach.