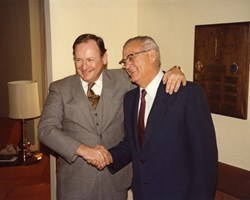 "This is a chance for Buckeye fans to help a great charity AND take two tickets away from the Wolverines for The Game in the Big House." – Chris Holloway
Columbus, OH (PRWEB) November 22, 2013
Supporters on each side of one of the greatest rivalries in sports have created a way to take the rivalry off the field using social media and a tangible measure to demonstrate which fan base deserves two "Michigan Owned" tickets to The Game. This contest will be led for Ohio State by Buckeye Empire and for Michigan by Go Blue Then and Now.
The contest is simple. Each side will use their FaceBook pages to collect a list of those who wish to be in a free drawing for the tickets. However, since there are only 2 tickets, only one side will actually deliver. The winner will be determined through use of current Cleveland Browns kicker Billy Cundiff's family foundation Colleen's Dream's Kicking For the Dream platform. From now until November 26, 2013 at 10 p.m., all new donations to the Support Michigan Kickers page(i.e. above the current $2,000) will count for the Wolverines and all new donations to the Billy Cundiff page (i.e. above the current $2,625) will count for the Buckeyes. This will allow all fans to simply follow the competition through the Kicking For The Dream website.
"Buckeye Empire is a social media presence to support Ohio State," says Chris Holloway, Editor in Chief of Buckeye Empire. "While we normally would not associate with the state up North, this is a great chance for Buckeyes to show we not only support our team but we support charitable efforts by all Player Foundations. We welcomed the 'The Game Charity Challenge' because this is a chance for the Buckeye Fans to help charity AND take 2 Michigan tickets away from the Wolverines."
"Send 2 Buckeyes to Ann Arbor is our way to let Buckeye fans know we can shine in charity and get two of our fans into the Big House," Chris added. "The great thing about this contest is it can be followed on line simply by watching contributions on Kicking For The Dream. WHEN the Buckeyes prevail in fund raising, we will pick a winner from those who have commented on our FaceBook page."
"We always welcome competition with Ohio," says Brandon Williams, former Michigan and NFL football player who is head of Go Blue Then and Now. "The purpose of the Go Blue Then and Now affinity social network community is to gather the Michigan family to support charity."
Brandon added: "We appreciate the opportunity to compete with Ohio and demonstrate that Michigan fans are as competitive as the players on the field. Our effort is called 'Keep Our Seats' because the donor is a Michigan Man. We took up the challenge because the rivalry with Ohio has as its underpinnings great sportsmanship and a legacy of giving back to the community by those who have played in The Game. Since we WILL Keep The Seats, this maximizes help to a great charitable cause and allows us a W before we even kick it off."
Mike Keliher, a nationally recognized expert social network consultant, is the Michigan graduate who contributed the tickets. "I grew up in Bay Village, OH, a Wolverine in the land of Buckeyes," Mike stated. "I saw every game of the Ten Years War and learned that, while fierce rivals on the field, Coach Hayes and Coach Schembechler were close friends off the field. Both men were great humanitarians and instilled in all their players the need to give back to the community."
"I am fortunate to work with many professional athletes who do tremendous work in the community," Mike continued. "We are constantly innovating ways to use social media to utilize it as a cost free way to create visibility. I hope this inspires other such efforts between rivals. And, in conclusion, Go Blue!"
About Kicking For The Dream:
Billy Cundiff, who is the kicker for the Cleveland Browns, and has been an NFL kicker for over 10 years for teams such as the Cowboys, Saints, Ravens and Redskins, launched Kicking For The Dream in May of 2013, as an effort to support Colleen's Dream Foundation, a foundation which raises money to support research for the early detection of, and improved treatment for, ovarian cancer.
About Go Blue Then and Now:
Go Blue Then and Now is an affinity social network community that unites Michigan sports fans and creates visibility for charitable and community service efforts by University of Michigan coaches and player alumni. It is not a company or a not for profit. Instead it is a place where all the Michigan global community can network with each other. The costs are all privately financed by Keliher Consulting.