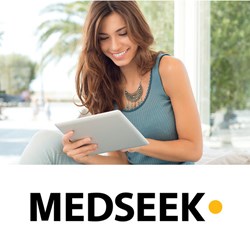 "Giving patients tools to easily participate in their care is what we strive for everyday," states Peter Kuhn, CEO of MEDSEEK.
Birmingham, AL (PRWEB) November 21, 2013
The 2014 ONC HIT Certified MEDSEEK Empower enterprise patient portal goes beyond just helping hospitals meet Meaningful Use to also allow patients to easily book and manage their appointments, in real-time. By extending the convenience of online appointments, healthcare organizations can provide their community with one of the most requested features in every patient satisfaction or ePatient survey.
The appointment application in MEDSEEK Empower supports bi-directional, real-time integration with a healthcare system's scheduling and/or practice management system(s) to present patients with an accurate representation of upcoming and available appointments. Deployed at some of the largest Healthcare Integrated Delivery Networks (IDNs) in the country, patients or authorized account holders acting on behalf of a family member can use the intuitive tools to view, schedule, reschedule or cancel appointments online.
"Giving patients tools to easily participate in their care is what we strive for everyday," states Peter Kuhn, CEO of MEDSEEK. "The MEDSEEK Empower patient portal helps hospitals influence patients to make appointments such as check-ups, follow-ups, outpatient procedures and more, encouraging healthier populations." Online appointments have proven beneficial for healthcare staff, providers and patients, as the tool helps minimize phone calls, last minute cancellations and costly no-shows.
To learn more about how MEDSEEK Empower and the entire MEDSEEK Influence platform can help healthcare organizations achieve their patient engagement goals, contact us for more information or to view a demonstration at marketing (at) medseek (dot) com.
About MEDSEEK
Since 1996, MEDSEEK has focused exclusively on building software to help hospitals and health systems virtually influence prospects and patients before and after a physical encounter. Today, the MEDSEEK Influence platform integrates web, mobile, social, predictive analytics and relationship management solutions to help organizations drive profitable volume, improve individual and population health, increase patient satisfaction and create lasting health-related loyalty. Birmingham, AL-based MEDSEEK is proud to serve over 200 customers representing over 1,000 hospitals including many of the top hospital systems in the United States and Canada.