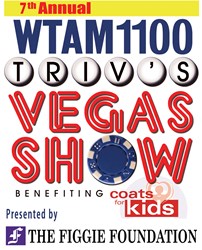 "When we had the opportunity to tie Triv's Vegas Show into raising money for Coats for Kids, it was the perfect match. These kids have no choice about their lot in life. It's important to me that they stay warm during our cold winters."
Cleveland, Ohio (PRWEB) November 21, 2013
Since 2004, WTAM 1100 radio personality Mike Trivisonno has raised nearly $370,000 for Coats for Kids—Cleveland by inviting his listeners to join him at a "Vegas Show" featuring Northeast Ohio's best entertainers. But for his 7th show this year, presented by The Figgie Foundation, Triv has pulled out all the stops, assembling the biggest cast of talent yet and some local VIPs he calls friends. The entertainers, who volunteer their time to support such an important cause, will entertain guests with a singing competition and gala show on Friday, November 22, and Saturday, November 23, at the Hilton Garden Inn in Twinsburg, OH. Although tickets for both nights sold out within minutes, you can still watch the show live beginning at 6:30 p.m. both nights on http://www.trivshow.com. Plus, photos of Triv, his special guests, the performers and listeners will be posted on trivshow.com, as well as on The Triv Show's Facebook and Twitter pages.
"I love the spectacular entertainment in Las Vegas, so I started thinking, why not put together a Vegas-style Show that I could share with my listeners?" says Trivisonno, who projects that this year's benefit and surrounding fundraisers will raise close to $300,000. "When we had the opportunity to tie Triv's Vegas Show into raising money for Coats for Kids, it was the perfect match. These kids have no choice about their lot in life—It's not their fault that they don't have a coat. It's important to me that they stay warm during our cold winters."
In addition to the singing competition and Vegas-caliber entertainment, the evening will feature an elegant, three-course chef-prepared dinner created by the culinary artists at the Hilton Garden Inn Twinsburg and raffles for fabulous and valuable prize packages. But most of all, the evening gives Triv's loyal fans and callers the opportunity to enjoy a great evening, meet one another and the cast of characters from The Triv Show (heard weekdays from 3 to 6 p.m. on WTAM 1100) and support a very important cause.
Thanks to Matthew P. Figgie and The Figgie Foundation's generous support as the presenting sponsor, which covers all expenses for the show, 100% of the proceeds from ticket sales will go directly to Coats for Kids, as will proceeds from raffle ticket sales. Marty of Photos by Marty will take pictures of audience members with Trivisonno and performers, which will be printed on-site courtesy of OBM and available to take home for a donation to Coats for Kids.
Both nights, Triv's Vegas Show will spotlight some of the area's biggest stars in a fierce singing competition pitting members of the band Chance—Bob Burdecki, Russ Mascia, John Messina and Domenic Noce; Billy Fischer; and Erin Rossi against newer talent on the scene, including Scott Savol (American Idol season 4 finalist); Abby Sky (2012 Ohio Idol winner); and Adrianne Woolf (Akron/Canton area Junior Idol winner). To help attendees decide how to cast their votes, three judges will offer commentary. Each night's winner takes home a huge trophy and bragging rights.
The band CHANCE, comedian Mike Cheselka, musicians The Other Brothers and Savahannah Byczek, John Adams (of Cleveland Indians fame) and Lil' John will round out the evening's entertainment.
Each night, attendees will be able to purchase raffle tickets for a chance to win spectacular prizes (all donated):

A pair of diamond earrings valued at more than $8,000.00, courtesy of Peter & Co. Jewelers in Avon Lake
Two lawn tickets (plus parking passes and VIP wristbands) to every concert (excluding orchestra shows) presented by Live Nation during the 2014 season at Blossom Music Center, valued at $2,075.00.
A dinner package valued at more than $5,250.00 that includes gift certificates to some of the best restaurants in northeast Ohio, including Blue Canyon, Brasa Grill Brazilian Steakhouse, Brew Garden, Canal Towpath Bar and Grill, Casa D'Angelo Italian Ristorante, Cibrèo Italian Kitchen, Cleveland Chop, Corleone's, Don's Pomeroy House, El Guero Mexican Grill, Fisher's Cafe and Pub, Fleming's Prime Steakhouse & Wine Bar, Flour Rustic Italian Kitchen, Frederick's Wine & Dine, Fuel Bar and Grill, Guarino's Restaurant, Harry's, Hodge's, Italian Village Restaurant, Jack's Deli, La Dolce Vita, Luchita's, Mallorca, Medina Steak & Seafood Co./Berea Union Depot Taverne, Murray Hill Market, The Original Harley Diner, Parallax, Pickwick and Frolic, Sirna's Cafe, South East Gears & Cheers, Taki's Greek Kitchen, Trattoria Roman Garden, Triv's and Washington Place Bistro.
A beauty basket valued at more than $1,500.00, featuring a blow dryer, flat iron and unique styling irons from Solon-based ONEStyling, the signature Lavender Lover's basket from Streetsboro's DayBreak Lavender Farm, Obliphica Professional Haircare and more.
A $3,000.00 Leaf Free Gutter System from K-Guard.
In a separate raffle to kick off the Coats for Kids—Cleveland's fundraising campaign in September, which raised more than $80,000.00, Bill Stroh of Lorain, OH, drove home in the grand prize, a 2013 Mitsubishi Outlander Sport ES from Mentor Mitsubishi, who donated the prize once again in their continued support of Triv and Coats for Kids. Kathie Srodek of Macedonia, OH, and Laura Wischhusen of Willoughby, OH, won $7,000.00 and $3,000.00 cash, respectively.
Additional funding from The Figgie Foundation, combined with a $50,000.00 grant from Ohio Governor John Kasich's Office of Faith-Based and Community Initiatives, will help fund a new partnership between Coats for Kids and the Ohio Association of Professional Firefighters. Those funds will be used to purchase new winter coats made in the USA, which will be distributed to children in need via area fire departments, including Akron, Cleveland, Elyria and Euclid.
With so many local kids in need of warm winter coats, Triv's fundraising campaign is just the beginning. If you can't make it to the show, you can make a monetary donation by mailing a check made payable to Coats for Kids— Cleveland to PO BOX 74767, Cleveland, Ohio 44194. You can also donate online securely at coatsforkidscleveland.org.
Drop-off locations for like-new/gently worn coats include local malls Beachwood Place, Crocker Park (Westlake), Great Lakes Mall (Mentor), Great Northern (North Olmsted), Legacy Village, Midway Mall (Elyria), Richmond Town Square The Shoppes at Parma (formerly Parmatown Mall) and SouthPark Mall in Strongsville. Other locations collecting coats include Arborwear (8269 E. Washington Street, Chagrin Falls), Armbruster Moving & Storage (2800 Center Road, Brunswick), Clear Channel Office (6200 Oak Tree Boulevard, 4th Floor, Independence), Crowne Plaza Cleveland South (5300 Rockside Road, Independence), HealthSpan Data Center (formerly Kaiser Permanente—5400 Lancaster Drive, Brooklyn Heights), Howard Hanna Real Estate Offices, M & M Insurance Group (Progressive agent—7864 Mayfield Road, Chesterland), Petitti Garden Centers, Remington College, and Waterway Carwash and Willoughby Supply locations.
This year's Vegas shows would not be possible without the additional support of Balloon Express, Cintas, Discount Drug Mart, K2 Enterprises, Meyer Products, Northern Ohio Printing, Now Valet, NPI Audio Visual Solutions, Petitti Garden Centers, Royale Brands and the Twinsburg Police Department.
"To date, Coats for Kids has received nearly $370,000.00 in net fundraising dollars from the Vegas shows," said Debbie Martinko, executive director of Coats for Kids. "This generous total, along with the time and talent—most of which is uncompensated—contributed by so many performers and businesses throughout the years has allowed us to purchase many warm winter coats for Northeast Ohio children."
About Mike Trivisonno
Mike Trivisonno (Triv) is a radio broadcaster best known for hosting his self-titled afternoon drive talk show on Cleveland's WTAM 1100 from 3 to 6 p.m. weekdays. He also spars on WTAM's The Spew from 9 to 10 a.m. weekdays. The Clear Channel station's signal is heard in 38 states and half of Canada, positioning Triv as a dominant voice in talk radio. While his show was originally sports-focused, over time, it has become a forum for discussing sports, politics, local issues, current events or whatever else is on Triv's mind. Luckily, for the past 8 months, he's been focused on Coats for Kids. Connect with Triv and his gang at Facebook.com/TrivShow and @TheTrivShow on Twitter, and visit http://www.trivshow.com.
About Coats for Kids—Cleveland
2013 marks the 32nd anniversary of Coats for Kids – Cleveland, which was started in 1981 by local radio station employees when they realized that a large number of children were missing school in the winter because they did not have warm coats. That November, Coats for Kids was founded and the radio station began soliciting donations of gently worn coats and cash donations to purchase new coats. Since that initial campaign, more than $3.25 million has been raised and more than 500,000 new or like-new coats have been distributed to children (ages 0 to 18) in need throughout northeast Ohio. Learn more by visiting http://www.coatsforkidscleveland.org and following on Twitter @cfkcleveland.