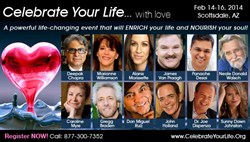 People from all over the world attend Celebrate Your Life Events to attend thought provoking and life-changing workshops and keynote lectures with the world's most profound visionaries and top spiritual teachers, says Liz Dawn
Scottsdale, Arizona (PRWEB) November 22, 2013
Deepak Chopra, Marianne Williamson and James Van Praagh will deliver keynote presentations to more than 1600 attendees at the Celebrate Your Life...with Love Conference, February 14-16, 2014 at the Doubletree Paradise Valley Resort, Scottsdale, Arizona. Chopra, Williamson and Van Praagh join an impressive roster of other esteemed spiritual leaders and visionaries for the 12th annual Conference, including Alanis Morissette, Caroline Myss, Panache Desai, Gregg Braden, Neale Donald Walsch, Lisa Williams, John Holland, Don Miguel Ruiz, Dr. Joe Dispenza, Sunny Dawn Johnston, Arielle Ford, Barbara Marx Hubbard, Jose Ruiz and more!
People from all over the world attend Celebrate Your Life Events to attend thought provoking and life-changing workshops and keynote lectures with the world's most profound visionaries and top spiritual teachers, says Liz Dawn, President of Mishka Productions and Celebrate Your Life Events. "It is not only a weekend of Love but a time to nourish your mind, body and spirit and transform your life from the inside out."
In addition to keynote and breakout sessions, the Conference will feature a Panel Discussion with Neale Donald Walsch, Alanis Morissette, Panache Desai and Barbara Marx Hubbard, Pre and Post Workshops with Speakers, Conference Book Store, Celebrate Your Life Vendor Marketplace, Wake Up Sessions that offer Music, Meditation or Yoga Therapy and much more.
Celebrate Your Life with Love Conference is presented by Mishka Productions ~ Creating empowering events that nourish your soul, enrich your life, honor your spirit...and celebrate YOU!
To register or learn more about the 12th Annual Celebrate Your Life Conference in Scottsdale, Arizona visit our website at http://www.celebrateyourlife.org, follow us on Twitter at https://twitter.com/CelebrateURLife, or like our Facebook page at [https://www.facebook.com/CelebrateURLife.