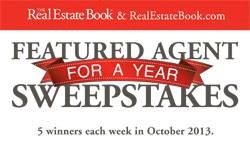 Lawrenceville, GA (PRWEB) November 22, 2013
Over a six-week period starting in October, real estate publisher, The Real Estate Book®/RealEstateBook.com, awarded 30 winners with a year's worth of Platinum Status on RealEstateBook.com.
Each winner received the highest online package for an entire year, a $1,200 value. The platinum package includes, but is not limited to:

Agent photo displayed in search results;
Agent profile web page;
Featured placement in advertiser search results;
Full listing detail;
Links to personal website, blog & Facebook page;
Priority placement in search results;
Unlimited listing photos;
Agent mobile website;
Single property mobile website for each listing; and
Text & QR codes for each listing.
Click here to view a list of the winners.
---
About The Real Estate Book/RealEsateBook.com
The Real Estate Book offers print, web, mobile, direct mail and social media tools to deliver leads and result s to real estate professionals. With local print publications in over 300 markets across the U.S., Canada, and the Caribbean, and approximately 300 additional markets displaying online content, RealEstateBook.com is a top-rated real estate website with over 1.5 million listings updated daily.
About NewPoint Media Group
NewPoint Media Group, LLC ™ specializes in targeted media solutions that include both print and digital distribution to create integrated advertising and marketing services that amplify overall effectiveness and results. Leading brands include The Real Estate Book, Mature Living Choices, Senior Living Choices, New Home Finder, New Homes & Ideas, and New Homes Journal. In addition, the Company's Publications Print Division provides these services to a variety of industries. The Company specializes in integrating print and digital media to effectively reach and engage a targeted consumer audience through local print distribution, web, mobile, direct mail, and social outlets. For more information, visit NewPointMediaGroup.com.
Contacts:
David Vining, Vice President of Digital Media
NewPoint Media Group
770-962-7220 ext. 24221
dvining (at) NewPointMediaGroup (dot) com
Rebecca Chandler, VP, Marketing
NewPointMedia Group
770-962-7220 ext. 24672
rchandler (at) NewPointMediaGroup (dot) com