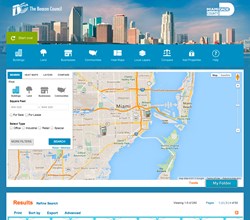 "This new website provides the information companies need to make investment decisions, and that helps us attract businesses," said Larry K. Williams, president and CEO, The Beacon Council.
Miami, FL (PRWEB) November 21, 2013
GIS Planning announced today that Miami-Dade County, in partnership with The Beacon Council, has launched MiamiDadeSites.com to attract businesses and jobs to the region.
Using Geographic Information System (GIS) software, the website provides immediate access to in-depth information that previously took weeks to research. Now, data including dynamic real estate, demographic and industry breakdowns are available free and instantly, along with a database of available properties with images.
"This new website provides the information companies need to make investment decisions, and that helps us grow and attract businesses to our county," said Larry K. Williams, president and CEO of The Beacon Council, Miami-Dade County's official economic development partnership.
MiamiDadeSites.com, built with the support of partner Florida Power & Light, allows visitors to:

Search for available buildings and sites using specific criteria including type, size and location.
Display properties on an interactive heat map that can display layers of information on points of interest, transportation links, demographics and more.
Explore existing businesses in Miami-Dade County by general and specific industry classifications, size and performance.
Find locations in Miami-Dade County that match specific demographic, labor force, transportation and geographic profiles.
Easily save property, demographic, community and business reports.
View, create and print custom maps; develop custom demographic radius reports.
"Since nearly all initial site selection screening is conducted online, the new system will help businesses instantly gather information they need to make investment decisions in Miami-Dade County," said Anatalio Ubalde, CEO of GIS Planning, creator of the software that powers the new system.
The GIS-powered website is built using state-of-the-art site selection mapping capabilities including ZoomProspector Enterprise and Google Maps technologies.
"This new website will allow businesses wishing to locate or expand in Miami-Dade County a literal 'bird's eye' view on available properties," said Miami-Dade County Mayor Carlos A. Gimenez.
Media will have the opportunity to demo the new web tool Tuesday, December 3, 12:00 p.m., at the Stephen P. Clark Center in Miami.
"This location analysis website will give our community an advantage in attracting potential employers to Miami-Dade over other markets. As this website reaches its full potential, our residents, the real-estate community and businesses alike will be provided numerous benefits," said Miami-Dade Board of County Commissioners Vice Chair Lynda Bell.
About GIS Planning, Inc.
GIS Planning, http://www.gisplanning.com, is the world leader in online economic development solutions. Over 13,000 U.S. cities in 42 states are served by GIS Planning's Geographic Information System (GIS) software, which provides real estate, demographic and industry data to help site selection professionals. GIS Planning invented ZoomProspector.com, a free website that enables companies to identify the best locations to start-up, expand or relocate, and SizeUp.com, a free tool to help businesses grow. GIS Planning is an exclusive partner of the International Economic Development Council, and has been on the Inc. 5000 list for the past five years.
About Miami-Dade County Government
With more than 2.5 million residents, Miami-Dade County is home to people from over 156 countries who communicate in more than 64 different languages. It is the most populous county in the southeastern United States and the seventh largest in the nation. The County Mayor oversees a $6.3 billion budget; is responsible for the management of all administrative departments, including Miami International Airport and PortMiami; and for carrying out policies adopted by the 13-member Board of County Commissioners.