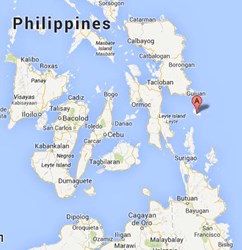 "We find those in need, rather than the other way around."
(PRWEB) November 22, 2013
NYC Medics disaster team arrived in the Philippines on Saturday, November 16, 2014 and have spent the last 6 days treating the residents of the most remote areas of the region . The team of 12 is a self contained and self supporting group of medical professionals who take the medicine to the people.
For the last three days the team has been traveling via US Navy helicopters to Homonhon island, in the Leyte province to treat patients at each of the 10 villages on the island. This was one of hardest hit areas from Typhoon Haiyan and the villagers there have been without any medical attention since the devastating storm struck 13 days ago.
The team arrives in the early morning and then gets picked up at the end of the day to return to a home base in Guiuan. The villagers had not yet received any medical attention prior to the arrival of the NYC Medics team.
According to Phil Suarez, director of operations, they are making a big difference in the remote villages of Leyte. "Our core concept, that we find those in need, rather than the other way around, is working once again." On a call by satellite phone this morning the team leaders sounded exhausted, they have been working in extremely difficult conditions for days. A 90 minute deluge of rain had just ended and soaked everyone and everything, turning the camp into a muddy swamp, and yet, they also sounded happy. "Strange as it seems, when you are having a real and significant impact on people's lives, exhaustion and physical misery become tolerable."
After today's mission, the people of Homonhon island have all had access to care and those who needed more extensive care have been evacuated. By helicopter Tomorrow the team will head north to Hernani.
NYC Medics is an all volunteer force and they need your support.
You can learn more about NYC Medics and make tax deductible donations by accessing the NYC Medics website at http://www.nycmedics.org.