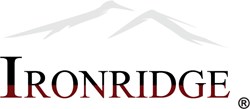 Ironridge Global meets with emerging growth companies at Undiscovered Equities conference
Boca Raton, FL (PRWEB) November 21, 2013
Ironridge Global Partners, LLC, an institutional investor making direct equity investments in micro-cap public companies, met with senior management of emerging growth companies at the Fall Conference hosted by Undiscovered Equities, Inc. on November 20–21, 2013.
Undiscovered Equities' Fall conference gives attendees an opportunity to listen to in-depth presentations by the featured companies, as well be able to network with other businesses who attend. Undiscovered Equities is a leading provider of equity research on high-impact aggressive growth investment opportunities. Its services include research analysis on the energy and precious metals markets, news and financial data, market commentary and the Undiscovered Equities newsletter. Undiscovered Equities' staff of small cap investment professionals is dedicated to providing the investment community with the tools and avenues necessary to invest their money wisely.
About Ironridge Global Partners
Ironridge Global Partners, LLC is an institutional investor, making direct equity investments in micro-cap public companies. Its Liability for Equity (LIFE) program allows public companies to satisfy trade payables, debts and other liabilities in exchange for unregistered common stock utilizing a Section 3(a)(10) fairness hearing. Ironridge Global is the industry leader in this innovative financing structure, which substantially reduces the transactional costs and time necessary to complete a deal. The fund has entered into more than 50 equity financing transactions since 2011, ranging from under a quarter million to over $15 million each. Ironridge Global seeks to be a long-term financial partner, assisting public companies in financing growth and expansion by supplying innovative funding solutions and flexible capital. For more information on Ironridge Global Partners, please visit http://www.ironridgeglobal.com.