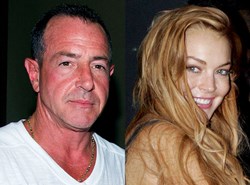 I was impressed by Michael's resiliency to handle the difficulties in his life and have a strong faith in God. - Haley, who admired Lohan's new role of paying forward the lessons he's learned to those who are facing dependency issues
Pittsburgh, PA (PRWEB) November 22, 2013
Radio host Neil Haley, the Total Tutor, recently had a chance to interview Lindsay Lohan's dad, celebrity Michael Lohan, on the Simply G Media Network. Lohan wanted to put an end to the rumors floating around about his family and take time to tell the truth about what is going on with his famous daughter and his relationship with her.
Simply G Media Network CEO, GJ Reynolds is quoted, "It is always a great thing to set the record straight and in turn to pay life's lessons forward. Michael is doing this."
Neil stated, "I was impressed by Michael's resiliency to handle the difficulties in his life and have a strong faith in God," said Haley, who admired Lohan's new role of paying forward the lessons he's learned to those who are facing dependency issues. "Michael has decided to dedicate his life to help users who are having a difficult time overcoming the addiction of drugs and alcohol."
In this interview, Lohan addresses the Oprah Winfrey confrontation rumors, Lindsay's drinking, his current relationship with his ex-wife Dina and his daughter Lindsay, and Lindsay's upcoming TV show on Oprah's OWN network. Lindsay Lohan opened up to Oprah about her addictions, family and struggles with fame, in her highly anticipated interview of "Oprah's Next Chapter." During the no-holds-barred conversation, the two also discussed Lohan's upcoming OWN docu-series as well as her reputation for being disruptive on movie sets.
Michael also discusses how passionate he is in taking on this new role of helping others and how it makes him feel like he's truly doing God's work. Lohan is a representative for the rehabilitation center Aid in Recovery. You can find more information on Michael at http://www.lukensinstitute.com. Also, you can find more information on the Simply G Media Network at http://www.simplyg.com.