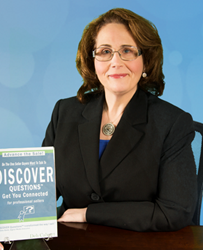 Be the one seller buyers WANT to talk to!
San Jose, CA (PRWEB) November 22, 2013
DISCOVER Questions™ Get You Connected for Professional Sellers, a groundbreaking sales book written by San Francisco Bay Area trainer and coach Deb Calvert, has been named a finalist for Top Sales World's 2013 Top Sales & Marketing Book award.
Calvert, owner and president of People First Productivity Solutions, developed a new sales training approach using eight types of questions through 25 years of research and observation as well as analysis of over 10,000 sales calls. These questions enable quality conversations between sellers and buyers, allowing the buyer and seller to establish relationships and avoid the dreaded stereotypical sales call. She began training sales professionals to use this method 8 years ago, and after many requests and lots of encouragement wrote the book which was released in September of this year.
Recently, the book has been nominated and quickly moved to a finalist position for the award given by TopSalesWorld.com, "the world's first online 'sales hypermarket,' with the shelves stacked with every conceivable resource front-line sales professionals and their managers could possibly need." The nominees are scored 50% by public voters and 50% by an expert judging panel. Those who wish to vote for Calvert's book or others may do so daily at http://topsalesworld.com/topsalesawards/voting/?poll_id=10 . Polls close at midnight eastern standard time on December 13.
DISCOVER Questions™ Get You Connected can be ordered on either amazon.com or, for an autographed copy, at the People First Productivity Solutions website. Direct contact can be made for bulk orders by calling (408) 779-7377 or via email at deb(dot)calvert(at)peoplefirstps(dot)com. Contact People First Productivity Solutions for information about training and keynote speaking on the topic of using questions or for the complete CONNECT2SELL training program.
People First Productivity Solutions was founded in 2006 by Calvert with the mission to "Build Organizational Strength by Putting People First." PFPS specializes in leadership development, sales training, and coaching.