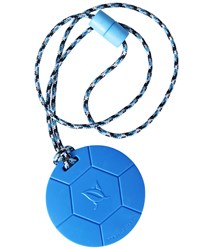 Like demolishing a plastic pen top, but with FDA plastic and less damage.
Halifax, Nova Scotia (PRWEB) November 22, 2013
Using new, highly resilient material, SentioLife Solutions, Ltd. has developed 4 wearable pendant shapes that address severe biting tendencies in individuals with special needs.
The company's first product idea, the lighter-wear KidCompanions Chewelry, came to life with the support from a win in Innovacorp's prestigious I-3 Technology Start-Up Competition and is currently successful in both local and international markets. To reflect its primary market, SentioLife Solutions Ltd., changed to its current name from Pida Infant & Maternity Products Ltd in 2010.
"Parents of aggressive chewers wanted an even more durable chew," said Pierrette d'Entremont, product designer and principal owner of SentioLife Solutions Ltd. "Our SentioCHEWS are more durable than competing products on the market, usually made of silicone. This new material is FDA compliant, BPA, latex and metal free. Making the product in our Nova Scotia warehouse also ensures final product quality, while we can keep an eye on our supply chain. Aspects that imported products can sometimes lack."
Classified as sensory tools, the new SentioCHEWS and KidCompanions Chewelry are recommended by occupational therapists to support individuals affected by mild to severe Sensory Processing Disorder (SPD), Autism Spectrum Disorder (ASD) and other issues associated with sensory challenges. They help users be calm, focus, and satisfy oral-motor needs. The need to move, for those with attention deficit hyperactivity disorder (ADHD), can also be satisfied by using the jaw muscles to chew and bite. "Like demolishing a plastic pen top, but with FDA plastic and less damage," says Pierrette.
Caregivers of individuals with special needs, ranging from anxious nail biting or hyperactivity to transition meltdowns and sensory issues that harm teeth or household items, will be happy to learn of the new "super chew" SentioCHEWS. "Our products bring peace of mind to parents. We follow ASTM safety standards, comply with The Canadian Consumer Product Safety Act, and our products are CE marked to EU standards, under the Medical Device Directive," explains Lorna d'Entremont, co-owner of SentioLife Solutions.
SentioCHEW is available on the company website http://www.kidcompanions.com. It is also sold online and in retail stores, as well as in educational and special needs catalogues around the world.