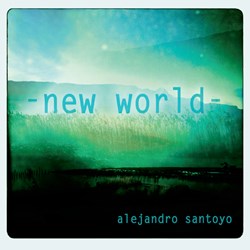 Alejandro Santoyo's composition and arrangements are as expert as anything you can find in modern classical, while his light touch on the piano has the touch of genius about it
(PRWEB) November 25, 2013
"New World" http://www.cdbaby.com/cd/alejandrosantoyo1 combines classical orchestra, choir, solo piano, electronic sounds, acoustic guitar, solo female vocals, and ethnic sounds from around the globe.
The album is inspired by the idea of a "New World", which entails a new way of perceiving, thinking, and living in united consciousness. All of this, translated into sound and music.
Alejandro Santoyo is a World-Class, International Composer and Pianist, who has lived in the US, Europe, and Latin America. He began playing the piano by ear and composing when he was 7 years old, received a masters degree in music later on, and ever-since has developed a unique sound that evokes profound moods and images.
His music has a very special energy that deeply penetrates, heals, and caresses the listeners soul. It is very moving, gentle, and romantic. His passionate sounds and piano playing, combined with orchestral overtones, and emotional voices and choirs, gently flow into the audience and elevate that secret corner in their souls.
When they close their eyes and listen, his music simply transports them to another place...
Reviews:
"A Bach-like elegance of form, arrangement and execution is Alejandro Santoyo's forte..." --John Payne (LA Times)
"Alejandro Santoyo's composition and arrangements are as expert as anything you can find in modern classical, while his light touch on the piano has the touch of genius about it... His compositions play the music to the film that takes place in the mind. It is visual, aural and spiritual, all at the same time… But mainly, it is music that comes from the heart and the soul, for the heart and the soul. It goes beyond words... It is Beautiful!" --, Beatwire
You can watch videos of his music and performances at his YouTube Channel at:
https://www.youtube.com/user/alejandrosantoyo7?feature=watch
His Music is available for the media upon request at:
DitoMusicProductions(at)gmail(dot)com
Contact Info: DitoMusicProductions(at)gmail(dot)com