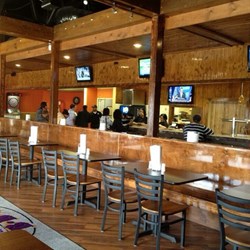 (PRWEB) November 22, 2013
Leading commercial furniture distributor, Restaurant Furniture.net recently helped Mishawaka bar and grill to a successful grand opening of its second restaurant.
Frankie's BBQ was established in 1968 by the late Frankie Fellows-Trotter and James "Charles" Trotter Sr. The Trotters invested their life savings into a business that would provide them with the sole means of income to support themselves and their six children. The flagship restaurant is in South Bend. They recently opened their second restaurant in Mishawaka, which is part of the South Bend metropolitan area in northern Indiana on the St. Joseph River. They are known for having the best BBQ in the South Bend, Mishawaka area. Their specialties are their ribs and brisket. The owner claims the secret to the restaurant's success is the secret sauce.
To date, Frankie's BBQ, Inc. is one of the most successful minority owned businesses in the Michiana area, serving over 100,000+ guests per year. The restaurant is now under the direction of Sean P. Trotter, the fifth of the "Trotter Children". In addition to the many successes Frankie's BBQ, lnc. has experienced over the past 40 years, the organization is a continuous supporter of organizations such as the Hospice Society, Cancer Society, and is one of the area's largest meat donors to the South Bend Homeless Shelters. Future endeavors include developing a Scholarship Fund for deserving students and providing internships that will allow students to "earn" while they "learn" about the restaurant business.
The owner contacted to Restaurant Furniture.net for tables, chairs and bar stools because of their reputation for high quality at competitive prices explained sales person David M. He chose the Metal Ladder Back Chair with a black frame finish and dark mahogany solid wood seats. It's a favorite chair of restaurant owners nationwide. As a restaurant that experiences heavy customer traffic, the owner knew he would need a chair that would look great and would be durable and stand up to heavy usage David M. said.
Restaurant Furniture.net's Metal Ladder Back Chair sells for $35. In addition to the mahogany seat finish which the owner selected, the chair also comes in cherry, dark mahogany, walnut, natural and black. Customers also have the option of a padded seat made of vinyl or fabric which can be customized for an additional fee. The frame comes in black, gold, copper vein, silver vein or gold vein. A matching bar stool is also available.
For the tables he chose the 24" X 30" reversible table tops for $26 each in mahogany and black finish. The reversible table tops also come in oak and walnut with a brown T-mold edge. The reversible table tops are very popular with customers because they are durable and affordable, ideal for fast casual restaurants. They came in square, round or rectangular shapes in a wide variety of sizes.
Browse Restaurant Furniture.net's full selection of commercial grade chairs, bar stools, table tops, table bases, booths and patio furniture at http://www.restaurantfurniture.net or talk to a customer service representative at (888) 409-1115.
Frankie's BBQ and Brew is located at 212 W. Edison Rd.in Mishawaka, IN. They can be contacted at (574) 855-3702.