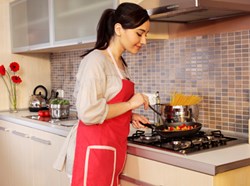 LINCOLN, RI (PRWEB) November 22, 2013
With the holidays right around the corner, many people will find themselves in the kitchen, preparing meals for family and friends. Cooking can pose a major fire risk, however, so Amica Insurance is sharing some tips to help keep you, your loved ones and your home safe.
According to federal fire statistics, firefighters respond to approximately 155,000 cooking fires per year. Additionally, the U.S. Fire Administration (USFA) reports that cooking fires increase on Thanksgiving, Christmas Eve and Christmas Day.
The USFA urges people not to become "a cooking fire casualty" by following these tips:

Clean stovetops, burners, ovens, microwaves and other cooking appliances, and make sure they're working properly. Never use extension cords for microwaves and other cooking appliances.
Keep potholders, oven mitts, towels and cooking utensils away from the stovetop. Also, don't wear loose-fitting clothing that can hang over a gas flame or electric burner.
Never leave food while it's cooking on a stovetop or in the oven. Turn off the burners, even if you're only stepping away briefly.
Stay alert. Don't cook if you've consumed alcohol or are taking medication that makes you drowsy.
In the event a small grease fire starts in a pan, have an oven mitt and lid nearby. Place the lid on the pan and shut off the burner. Leave the lid on the pan until it has cooled to keep the fire from starting again.
If a fire starts in an oven or microwave, shut it off and don't open the door until the fire has gone out. Have the microwave inspected before using it again.
About Amica Insurance
Amica Mutual Insurance Co., the nation's oldest mutual insurer of automobiles, was founded in 1907. The company, based in Lincoln, RI, is a national writer of automobile, homeowners, marine and personal umbrella liability insurance. Life coverage is available through Amica Life Insurance Company, a wholly owned subsidiary. Amica employs more than 3,200 people in 40 offices across the country.
CONTACT: Vince Burks, Corporate Communications, 50 Amica Way, Lincoln, RI 02865-1155, 800-652-6422, ext. 24563
Twitter: Amica
Facebook: Amica Mutual Insurance Co.