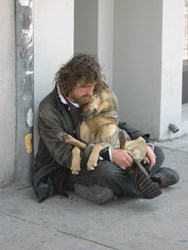 Be a Santa to a pet.
Carson City, NV (PRWEB) November 26, 2013
December brings out the giving spirit. There are many options for people who want to get involved helping the homeless in local communities. This year help a pet that belongs to a homeless person by donating pet food, leashes, collars or toys to a local collection site. Sites are listed at the Pets of the Homeless website. Or you can make a monetary donation at the website that will be used for emergency veterinary care for a pet in need or for one of the many wellness clinics that Pets of the Homeless sponsors every year. $7.79 will feed and provide basic vet care for an average size dog for a day. All donations are tax deductible. For details, visit http://www.petsofthehomeless.org.
About Pets of the Homeless, a national nonprofit since 2008, collection sites have collected over 234 tons of pet food and supplies and taken to food banks, soup kitchens and homeless camps. Over $145,000 has been used for illnesses and injuries to pets that belong to the homeless across the country.