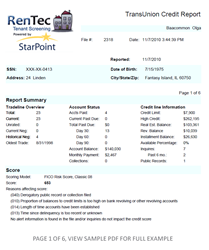 We've rolled out yet another update to help save property managers and landlords time in their day to day transaction entry
Grants Pass, OR (PRWEB) November 26, 2013
Rentec Direct, maker of leading property management software, announces a new and improved tool to help property managers and landlords manage transactions. Now with split transactions a single ledger entry can be made up of multiple components. This highly sought after feature is very useful when, a payment is made to a single vendor for multiple properties or, a payment is received from a single tenant for multiple properties. Property Managers and landlords often run into scenarios where this new and easy to use tool is going to save a lot of time. When asked how this new feature would help PM's and landlords Nathan Miller, President of Rentec Direct replied "We've rolled out yet another update to help save property managers and landlords time in their day to day transaction entry".
This new feature compliments Rentec's automatic bank synchronization feature that was announced earlier in November. Once a property manager or landlord has downloaded and matched transactions with a financial institution it is now possible to split the transactions to ensure that the correct properties or categories are assigned.
To learn more about Rentec Direct or to obtain a 30-day full featured free trial of the software, visit
http://www.rentecdirect.com/
About Rentec Direct
Rentec Direct provides cloud based rental software solutions for property managers and landlords. Other popular solutions offered by Rentec Direct include tenant ACH payment processing and tenant screening, and online syndication of vacancies to more than 20 popular websites.