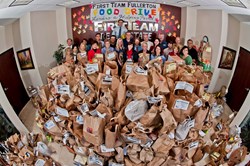 Distributing an extra 2,003 shopping bags on top of the 10,000 we already have is going to answer a lot of needs this holiday season. - Greg Carrescia, First Team Real Estate
Irvine, CA (PRWEB) November 21, 2013
In a wonderful and sudden development, the First Team Real Estate Office in Fullerton, CA which is leading a two-county, multiple community food drive has purchased an additional 2,300 shopping bags for homeowners to fill with food for the needy in communities ranging from Yorba Linda to Orange to Cerritos, Whittier to West Covina.
"In these communities, hundreds of thousands of residents, including kids, run the risk of missing a meal this holiday season," said Greg Carrescia, Office Manager, First Team Real Estate's Fullerton office. "Distributing an extra 2,300 shopping bags on top of the 10,000 we already have is going to answer a lot of needs this holiday season."
Working on a completely volunteer basis, agents arranged for an initial gift of 10,000 shopping bags from Ralph's Market on Harbor Blvd in Fullerton. Using these bags, the real estate agents fanned out across neighborhoods throughout North Orange County and Southeastern Los Angeles County. Each home was given a bag with easy to follow instructions, a link to YouTube instructions, and a pick up date. Homeowners are asked to fill the bag with food and leave it on the curb or their doorstep on the assigned pick up day. All food and donations collected will go to the Salvation Army and Pathways for Hope.
"First Team agents have put together a process where homeowners can care for people in their own community without walking five steps out their front door this holiday season," explained Rick Brotherton. "A lot of families who may have gone hungry will have a much brighter holiday season and future. That's what the holidays are all about and we are very proud of our First Team agents who every holiday season continue to grow this great program."
To learn more about the program, you can watch the YouTube video at http://ow.ly/qnexl or to drop off food or other donations, feel free to contact First Team Real Estate's Fullerton's office at (714) 278-0808.
ABOUT FIRST TEAM REAL ESTATE
Growing from a single office in Huntington Beach, CA in 1976, First Team Real Estate is now Southern California's largest and most trusted private real estate agency with offices across California. In 2011, 2012, and 2013 First Team was recognized as Best Real Estate Company by the annual Orange County Register survey of 100,000 Southern California households. We can be reached at (888) 236-1943.