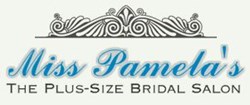 The key is recognizing the needs of the curvy girl and providing respect, knowledge of her needs, and above all, sample gowns that she can get into and zip before placing a non-refundable order.
Rochester, Indiana (PRWEB) November 23, 2013
Miss Pamela's Plus, a plus-size bridal boutique is celebrating its fifth anniversary with a grand reopening in a newly renovated location at 723 Main St. in downtown Rochester, Indiana. The new couture-style salon has greatly expanded space, more dressing rooms, and a high-end décor designed to give brides an elegant, upscale experience when looking for the perfect wedding gown.
Pamela Inwood, Miss Pamela's founder and president explains, "We're a destination store catering to plus-size brides. We've grown steadily over the past five years. We now serve brides from Alaska to Texas and California to Washington, DC."
Explaining the store's growth, she said, "Our website has improved our internet presence, and greatly increased the number of brides who walk in the door. Nearly 75% of Miss Pamela's brides review the website prior to their appointment." The company's new website was designed and developed in collaboration with Precept Partners in Buchanan, Michigan.
Inwood continued, "The web designers at Precept Partners worked with me to tell our story in clear, compelling way. I couldn't be happier with my new website. The response from my customers and support I've received from Precept Partners has been gratifying."
Precept's manager, Stephen Antisdel added, "Working with Pam and her staff has been a great experience; she understands her market and serves her customers very well. Her website is helping her reach brides from all over the country, and her newly expanded showroom gives her the space to continue growing."
Plus-size brides have been generally ignored by the bridal industry, said Inwood. "The key is recognizing the needs of the curvy girl and providing respect, knowledge of her needs, and above all, sample gowns that she can get into and zip before placing a non-refundable order."
Amy Beechy, Interim Director of the Rochester and Lake Manitou Chamber, applauded Inwood. "The chamber is always excited to support and celebrate the success of our members. Miss Pamela's is exactly the kind of retail business we want in our community and particularly in our downtown. The shop is a top-quality destination and attracts customers from hundreds of miles away. These customers not only shop at her store, but they eat and make purchases at other businesses in our community."
Miss Pamela's has been recognized by Wedding Wire, an online bridal resource, with its "Bride's Choice Award" for 2013.
About Miss Pamela's Plus
One of only a handful of plus-size bridal salons in the nation, Miss Pamela's Plus specializes in plus-size sample gowns for brides, bridesmaids, and mothers of the bride/groom. The bridal salon was opened in 2008 with samples and discontinued gowns, mostly in smaller sizes. Owner Pamela Inwood then realized the majority of her sales were coming from plus-size dresses, so she re-made the store into a plus-size retail salon. Miss Pamela's Plus stocks sample gowns ranging from size 14 to size 36 in styles and silhouettes plus-size brides are looking for. For additional details see http://www.MissPamelasPlus.com.
About Precept Partners
Precept Partners provides award winning website design, development and online marketing services proven by more than $100MM in online sales. Launched in 2003, Precept today serves clients in e-commerce, manufacturing, technology, the arts, and not-for-profit sectors. Media recognition for Precept's principals includes The Wall Street Journal, BusinessWeek, Investors' Business Daily, Business 2.0, Furniture Today, and NPR. Client awards include the Inc. 500, the Internet Retailer 500, the Hot 100 Best Retail Websites, the Webby Award for website design and many others. For more information visit http://www.PreceptPartners.com.