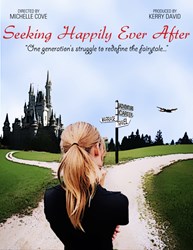 Main character Jacquie's arc is at the heart of the film, pulling viewers along as she navigates bad setups and tough conversations with her parents. - The Washington Post
Los Angeles, CA (PRWEB) November 25, 2013
After a two- year domestic release through Lionsgate Films, documentary filmmakers Kerry David (AGENT CODY BANKS, MY DATE WITH DREW) & MICHELLE COVE, announced today that they are releasing their popular, and award-winning documentary "SEEKING HAPPILY EVER AFTER" on the new DISTRIFY platform just in time for the Holidays.
DAVID, a British filmmaker who is currently producing the new RUSSELL PETERS (CAA) project "THREE FOR THE ROAD", Co-Directed SEEKING HAPPILY EVER AFTER with Director & Producer, COVE, a first time filmmaker, and best-selling author & journalist (I'M NOT MAD, I JUST HATE YOU!, I LOVE MONDAYS). COVE is currently Directing her follow-up documentary (ONE AND ONLY).
SEEKING HAPPILY EVER AFTER was based on a US Census study stating there are more single women in their 30's today than at any other time in history. DAVID & COVE wanted to find out why. So they took to the streets, cameras in hand, to talk to hundreds of single women across the US about why they are single for longer and whether it's by choice.
They quickly realized it was a hot-button topic with singles, couples, men and women alike. Their documentary captures candid views on the modern pressures to find a mate, the secret joys of being single, why reproductive technology is viewed as a game-changer, and how texting and online dating has seriously altered courtship.
"The film has been wildly popular with women of all ages across the US, thanks to our partnership with LIONSGATE FILMS," said DAVID today. "I am so happy that our film will now be available to women all over the world."
Said COVE, "SEEKING HAPPILY EVER AFTER is the perfect holiday film for singles. It is an inspiring reminder that there isn't any one way to fulfillment. There are many routes, and it's up to each one of us to discover our own."
The movie can now be streamed at http://www.seekinghappilyeverafter.com for $4.99 (USD/CAD/AUD) and €3.99 (EUR and GPB).