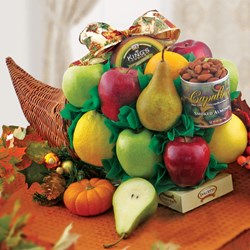 Clifton, NJ (PRWEB) November 21, 2013
Next week is the official start of the 2013 Holiday Season with Thanksgiving, followed by Black Friday and Cyber Monday. The folks at Winebasket.com are ready for the holidays with a big selection of holiday baskets and an even bigger sale.
No need to stand on line at the store - Winebasket.com has fast, easy online shopping. With a wide selection of gifts, from wine and champagne baskets to gourmet food and fruit baskets, Winebasket.com has something for everyone.
The Thanksgiving assortment is brimming with festive food delights like the Cornucopia Fruit Basket. A horn of plenty - filled with 13 pieces of farm fresh fruit, cheese, and plenty of cookies and nuts – this basket is a great way to send good food and express good wishes. For the lovers of all things Italian, the Festa Italiana Chianti & Fruit Gift Basket pairs Amadeo Chianti, authentic Italian cheese, salami, peppers, biscotti, plus eight pieces of fantastica fresh fruit. For the noshers, the Super Snackers Gourmet Gift Box has a super snack feast just waiting to be enjoyed inside a decorative gift box.
In a rare confluence of seasonal holidays, Hanukkah and Thanksgiving will be celebrated on the same night this year. Mathematically, the next time these two holidays coincide will be in the year 2070. Winebasket.com is ready for the festivities, with a full assortment of Hanukkah baskets filled with Kosher goodies. Dreidels abound in the Hanukkah Party Time Gourmet Gift Basket, Hanukkah Great Times Gourmet Gift Basket and the Hanukkah Super Snackers Gourmet Gift Box.
From Black Friday thru Cyber Monday, Winebasket.com will be holding a sitewide sale where customers will receive up to 20% off all orders over $75. This lucrative offer expires on Monday, December 2 at midnight.
Besides the major holidays in November and December, customers can celebrate any occasion by sending a delicious wine basket, fresh fruit basket or gourmet food basket. They are perfect for a birthday gift, anniversary gift, engagement and wedding gifts, and housewarming gifts. Send a thank you basket, or a congratulations basket for a job well done, too. Winebasket.com also has appropriate get well baskets and sympathy baskets, for those times when mere words will not suffice.
Each basket from Winebasket.com is created and designed in their 40,000 square foot facility in NJ. They will also personalize your gift message, at no additional charge.
Customers can order via the website, Winebasket.com, on their desktop or mobile device. The baskets and gifts can also be seen in person at their retail store, located at 350 Allwood Road in Clifton, NJ 07012, just across from the Clifton Promenade Mall.
About Winebasket.com
Winebasket.com provides fast, fresh and delicious wine & champagne baskets, gourmet fruit & food baskets, spa baskets, gift towers & tins and baby gift baskets to customers nationwide. Every basket is backed by a 100% unconditional satisfaction guarantee. Customer Service Representatives, all friendly and knowledgeable, are available to assist from 9:00am to 6:00pm weekdays by phone at (800) 691-0059 or via live online chat. Visit their sister sites, Capalbo's Gift Baskets for fruit baskets, fruit and cheese, or gourmet food arrangements, and babybasket.com, for all those newborn baby gift needs.