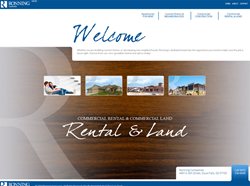 The business model of the Gage Team is unique. We excel in website development, far surpassing the capabilities most traditional agencies have. ~ Michael Williamson Marketing Director The Gage Team
Sioux Falls, SD (PRWEB) November 22, 2013
Ronning Companies a Sioux Falls based developer, home builder and property management firm gets a remodel.
Sioux Falls Advertising agency The Gage Team launched a new website for the firm as a portal to information on all its companies. Those companies include; Ronning Enterprises, Ronning Homes and Neighborhoods, Home Supply Company, Ronning Property Management, Ronning Properties and Ronning Construction.
The new website was a joint collaboration of two Sioux Falls advertising agencies, The Gage Team and Henkin Schultz also of Sioux Falls. Over the past few months the two agencies have worked together to merge the design needs of the Ronning Companies along with its tech needs.
The Gage Team headed up the technology platform in terms of design and customization of the websites programming and tools based around the powerful Gage CMS. Henkin Schultz headed up look and feel from the graphic design end.
The Gage Team's Matt Gage, Co-Owner and operations manager said, "By building the backbone of the new website on the Gage CMS, we were able to balance the need for client side editing with the need to keep data safe and secure."
The Gage Team's creative director Michael Williamson added "The business model of the Gage Team is unique. We excel in website development, far surpassing the capabilities most traditional agencies have."
The project can be seen at http://ronningcompanies.com/.
About the Gage Team:
The Gage Team is owned by Fred Gage, Matt Gage and Brooke Christensen in Sioux Falls, SD. The firm was a merger between Gage e Services LLC and the Ateam Inc. Bringing the power of one of the region's best website design and programming teams to the full services of a traditional ad agency The ATeam.
Learn more at http://www.thegageteam.com.