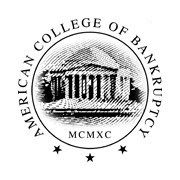 Fairfax, VA (PRWEB) November 21, 2013
The American College of Bankruptcy announced today that the following insolvency professionals will be inducted as Fellows in the 25th Class of the College on March 14, 2014 in Washington, D.C.:
Mr. Joel D. Applebaum
Clark Hill PLC
Birmingham, MI
Mr. Alan Bloom
Ernst & Young
London, ENGLAND
Ms. Diana K. Carey
Karr Tuttle Campbell, P.S.
Seattle, WA
Ms. Melanie L. Cyganowski
Otterbourg, Steindler, Houston & Rosen, P.C.
New York, NY
Mr. Charles A. Dale, III
K&L Gates, LLP
Boston, MA
Ms. Jeanne P. Darcey
Sullivan & Worcester LLP
Boston, MA
Mr. Kenneth H. Eckstein
Kramer Levin Naftalis & Frankel, LLP
New York, NY
Mr. Lawrence V. Gelber
Schulte Roth & Zabel LLP
New York, NY
Mr. Jay M. Goffman
Skadden, Arps, Slate, Meagher & Flom LLP
New York, NY
Ms. Elizabeth Green
Baker Hostetler LLP
Orlando, FL
Mr. John F. Higgins
Porter Hedges LLP
Houston, TX
Hon. Marvin P. Isgur
U.S. Bankruptcy Court
Houston, TX
Hon. Karen S. Jenneman
U.S. Bankruptcy Court
Orlando, FL
Mr. Michael B. Joseph
Ferry, Joseph & Pearce, P.A.
Wilmington, DE
Ms. Regina Stango Kelbon
Blank Rome LLP
Philadelphia, PA
Mr. Tobias S. Keller
Keller & Benvenutti LLP
San Francisco, CA
Hon. Christopher M. Klein
U.S. Bankruptcy Court
Sacramento, CA
Mr. Jordon A. Kroop
Squire Sanders (US) LLP
Phoenix, AZ
Mr. David R. Kuney
Sidley Austin LLP
Washington, DC
Mr. Richard A. Levy
Latham & Watkins LLP
Chicago, IL
Ms. Corali Lopez-Castro
Kozyak Tropin & Throckmorton, P.A.
Coral Gables, FL
Mr. Benjamin F. Mann
Husch Blcakwell LLP
Kansas City, MO
Prof. Nathalie D. Martin
University of New Mexico School of Law
Albuquerque, NM
Prof. Mark J. Roe
Harvard Law School
Cambridge, MA
Ms. Deirdre B. Ruckman
Gardere Wynne Sewell LLP
Dallas, TX
Mr. Rutger Jan Schimmelpenninck
Houthoff Buruma
Amsterdam, THE NETHERLANDS
Mr. David B. Shemano
Peitzman Weg LLP
Los Angeles, CA
Mr. William K. Snyder
Deloitte CRG
Southlake, TX
Mr. Mark G. Stingley
Bryan Cave LLP
Kansas City, MO
Mr. James D. Sweet
Kerkman Dunn Sweet DeMarb
Madison, WI
Mr. John A. Thomson, Jr.
Womble Carlyle Sandridge & Rice LLP
Atlanta, GA
Ms. Elizabeth C. Wiggins
Federal Judicial Center
Washington, DC
Mr. James M. Wilton
Ropes & Gray LLP
Boston, MA
The Induction Ceremony and a Reception in honor of the new Fellows will take place at the Smithsonian Donald W. Reynolds Center for American Art and Portraiture. The 33 new Fellows are being honored and recognized for their professional excellence and their exceptional contributions to the fields of restructuring and insolvency.
The American College of Bankruptcy is an honorary association of bankruptcy and insolvency professionals, and plays an important role in sustaining professional excellence in the field. College Fellows include commercial and consumer bankruptcy attorneys, insolvency accountants, turnaround and workout specialists, law professors, judges, government officials and others involved in the bankruptcy and insolvency community. The College offers unique and challenging educational programs and publications, maintains the National Bankruptcy Archives at the University of Pennsylvania School of Law, and, in conjunction with the American College of Bankruptcy Foundation, is believed to be the single largest financial supporter of pro bono bankruptcy services in the United States. 
Nominees are extended an invitation to join based on a sustained record of achievement reflecting the highest standards of professionalism. Candidates are selected by the College's Board of Regents from among recommendations of Circuit Admissions Councils in each federal judicial circuit and specially appointed Committees for Judicial and Foreign Fellows.
Criteria for selection as a Fellow of the College include: the highest standard of professionalism, ethics, character, integrity, professional expertise and leadership contributing to the enhancement of bankruptcy and insolvency law and practice; sustained evidence of scholarship, teaching, lecturing or writing on bankruptcy or insolvency; and commitment to elevate knowledge and understanding of the profession and public respect for the practice.
For more information about the American College of Bankruptcy, or about the 2014 Induction Ceremony, contact Shari A. Bedker, Executive Director at 703-934-6154 or fax at 703-802-0207 and email at sbedker(at)amercol(dot)org.