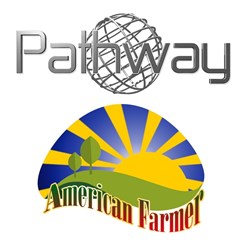 Plant City, FL (PRWEB) November 25, 2013
Pathway Biologic announced today that they will be featured in an upcoming episode of American Farmer, slated to air on RFD-TV, as well as other networks across the US and the world.
In this episode, viewers will learn about Pathway Biologic, and how they are working with farmers and fertilizer suppliers to the food production industry in order to improve soil and plant health, and enhance crop performance in the U.S. and globally. American Farmer will explore Pathway Biologic and their belief that their advanced microbial product technology, and their revolutionary, patented flagship product, MERGETM – merging microbes with fertilizer into a single product – are poised for widespread commercial deployment into mainstream agriculture.
"Advancements in microbial product technologies are proving to be an extremely valuable contribution to sustainable agriculture," said Charles Cowan, producer for American Farmer. "I'm proud to introduce our audience to Pathway Biologic. Spectators will be amazed to see how this company is helping create a fundamental structural shift to better agricultural practices worldwide."
Pathway Biologic works with fertilizer manufacturers and distributors on the deployment of bio-fertility products and solutions to growers. Pathway's flagship microbial bio-fertility product, MERGETM, is formulated to enhance dry or liquid primary and secondary nutrient inputs. Enhancing fertilizer with MERGETM creates a homogeneous bio-charged fertility input that maximizes the efficiency and efficacy of nutrient uptake and utilization, the keystone scientific merit of microbes for agronomy, and offers the ideal convenience and cost savings of a 1-step application process with the microbes riding with the fertilizer.
Stephen Gans, Managing Partner & Pathway Co-Founder comments, "The three pivotal deliverables that have remained at the forefront of our years of product development have been consistent efficacy, ease of deployment and affordability, and we're thrilled to see the Agriculture market embracing our microbial technology."
"Pathway is honored to have American Farmer showcase the promise of our technology's impact to growers looking for crop yield increases, improved crop marketability, increased plant health and stress tolerance, and improved fertilizer efficiency … all translating into a higher return on investment on farmers' nutrition management programs," says Mark Warren, Pathway Managing Partner. "We certainly attribute our momentum in the market to the consistency of our technology's performance … season after season, where we are changing outcomes for the American Farmer."
About Pathway BioLogic:
Pathway Biologic, based in Plant City, Florida, is an applied microbial science company and an emerging leader in the rapidly growing field of microbial products that boost soil value, optimize plant growth and health, increase crop performance and nutrition, and improve the efficiency of fertilizer and water in the growing process. The company's technologies and the convergence of advanced pure culture microbial formulations with commodity fertilizer offer the ideal carrier and deployment strategy to improve soil health and plant fertility on a global scale. Pathway is technology independent, whose products are formulated and manufactured in their molecular and production laboratories, and marketed through fertilizer distributors.
For more information, call Pathway at (813) 719-7284.
About American Farmer:
American Farmer is a breakthrough program on a mission to showcase the latest advancements in agriculture and farming. From seed to harvest, livestock and more, our producers have traveled the country covering the people, places and issues impacting all areas of farm country.
For more information visit: http://www.AmericanFarmerTV.com or call (866) 496-4065.
Media Contact:
Charlie Cowan, Producer
American Farmer
(866) 496-4065 x 875
charlie(at)AmericanFarmerTV(dot)com