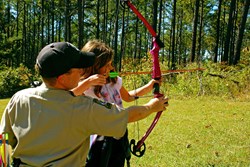 Those who want to pull back that bow and take aim at this growing sport will find plenty of opportunity to emulate heroine Katniss Everdeen at Georgia State Parks.
Atlanta, GA (PRWEB) November 21, 2013
Box office sales won't be the only thing to heat up when the blockbuster sequel Hunger Games: Catching Fire opens in theaters on Nov. 22; it is a sure bet that interest in the sport of archery will be rekindled as well.
According to a press release issued by Team USA, the organization's individual membership has skyrocketed from 4,185 individual memberships as of November 2011 to 8,589 as of November 2013 – a 105% increase in two years. "We definitely attribute much of this growth to 'The Hunger Games' films, along with movies like 'Brave' and 'The Avengers,'" explains USA Archery CEO Denise Parker.*
Those who want to pull back that bow and take aim at this growing sport will find plenty of opportunity to emulate heroine Katniss Everdeen at Georgia State Parks.
Georgia State Parks offers affordable archery classes in November and December, and then throughout most of the year at Panola Mountain State Park near Stockbridge, Ga. For just $10 plus $5 parking, a certified instructor teaches the basics, and all equipment is provided. For those with their own equipment, the cost includes an all-day archery range pass. The class is suitable for ages 9 and older, and advance registration is required. For more information, go to Panola Mountain State Park or call 770-389-7801.
The archery facility at Panola Mountain State Park in Stockbridge offers two different ranges for different archery experiences. The first is a traditional static range, where archers shoot into "bow butt" targets in free-standing target sheds. The second is a ¾-mile, 3-D trail with realistic targets on 22 lanes. The targets include a mix of Georgia's most popular game animals. Elijah Clark State Park on Clark's Hill Lake near Augusta and Victoria Bryant State Park, in Royston, Ga. also have ranges open year-round where archery fans can practice on their own.
Archery classes are also offered occasionally at Crooked River State Park in St. Marys, Ga. and Laura S. Walker State Park in Waycross, Ga.
There is a fee for using the archery ranges, which supports the maintenance of the facility. Archers typically bring their own equipment. For more information, go to: http://gastateparks.org/archery.

About Georgia State Park System :
Georgia's State Parks are affordable destinations for vacations and quick getaways. Waterfalls and lakes, salt marsh and mountains are just some of the beautiful environments of the 48 state parks. Georgia State Park Golf Courses offer the best variety and value around. With eight golf courses to choose from, each features natural settings and picturesque surroundings, as well as fun and challenging play. Most state parks offer fishing, boating, hiking, camping, geocaching, birding and more. Accommodations include campsites, cabins, lodges, even yurts, and vary by park. Among the 15 Georgia State Historic Sites are presidential homes, ancient Indian mounds, battlefields, plantations and even a gold museum. Georgia's public libraries have ParkPasses and Historic Site Passes that can be checked out like a book. Annual ParkPasses are $50 (or just $25 for seniors 62 and older). Even better, membership to Friends of Georgia State Parks & Historic Sites includes a free ParkPass and more discounts. Campers can pick up loyalty cards that earn them every 10th night for free. http://www.GaStateParks.org/thingstoknow.