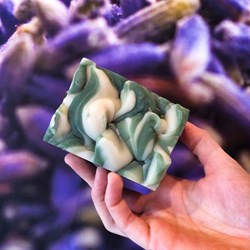 The lavender calms, the mint revives, and the mango butter conditions - it's kind of an all-in-one soap.
Carbondale, CO (PRWEB) November 25, 2013
Lavender Mint Soap is the latest addition to Osmia's collection of soaps, named the best luxury body soaps by Organic Beauty Talk in 2012. The new soap is made with wild-harvested mango butter and extra virgin, organic olive oil - a combination that provides an extremely smooth texture, both while using the soap, and on the skin afterwards. Many of Osmia's soaps are textured, with botanical additives in the bar itself. Lavender Mint, however, has only chlorophyll added to achieve the deep green color, and is extremely smooth and uniform in texture.
The soft scent of the soap is a combination of organic, Bulgarian lavender essential oil and organic, wild mint essential oil. Lavender is one of the powerhouse oils in aromatherapy - a mainstay of treatment for conditions like anxiety and exhaustion. It is also one of the essential oils most thoroughly studied by the scientific world, and has been clearly shown to have antibacterial, anti-inflammatory, and analgesic (pain-relieving) effects when used on the skin. It can be helpful in managing conditions like eczema, psoriasis, and burns. Wild mint is known for its use in treating respiratory conditions, and can also help with anxiety and exhaustion symptoms. It has a high menthol content, and can have a mild cooling effect on the skin. It is used in a very low concentration in Lavender Mint soap. Osmia's founder, Dr. Sarah Villafranco, says, "Lavender Mint is really a lavender soap - with just a hint of mint. It's a subtle scent, but its effects on the skin and the mind are incredibly soothing, and somehow the texture feels especially luxurious."
Osmia Organics is a boutique skin care company in the mountains of Colorado, specializing in organic soaps, natural face and body products, and natural perfumes. The benefits of using hand made soap, as well as a glimpse into their artisan techniques, are explained in the article entitled, "Why Organic Soap" on their website. Lavender Mint is available for purchase on the site, as well.