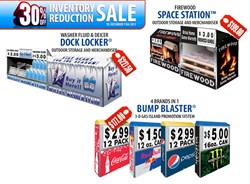 These units can increase store sales 30-60%
(PRWEB) November 22, 2013
For the first time Intermarket Technology is offering 30% off on 3 of it's premium outdoor display models. When asked about the sale, the owner simply said "oops we made too many".
The season couldn't be more perfect for this sale because it includes 2 of Intermarket's seasonal items, the Firewood Space Station(TM) and the Winter Dock Locker(R).
The Winter Dock Locker(R) is specifically designed to store and promote the sale of windsheild washer fluid and snow/ice de-icer. This Dock Locker(R) creates a high impact, high visibility, neat and appealing product presentation. It has a large opening front door that allows easy access to the product and clearly displays the pricing with a self contained price changing system. The Dock Locker(R) is perfect for placement at convenience, grocery and home improvement store fronts.
The Firewood Space Station(TM) has high impact suggestive imagery that drives firewood sales. This unit keeps wood clean, dry, and appealing for consumers. The reversible front door displays another image and an easily changeable price.
Not only do the Dock Locker(R) and Space Station(TM) keep the product dry and salable, but the changeable pricing provides an immediate call to action. These locking units are hard to miss whether in their open or closed position.
This sale also includes a year round promotional powerhouse for the gas island, the Bump Blaster(R) sign system. The Bump Blaster(R) is a 3 dimensional promotional sign system with big visibility. Easily change to any of the 4 brands included with each unit. The Bump Blaster(R) secures to the gas island bumper and promotes sales at the point of purchase. It includes a self contained price changer system with retail call-outs for endless promotion opportunities.
These outdoor displays allow convenience and petroleum stores to optimize their selling space while promoting seasonal and regular items 24/7. All of InterMarket Technology's outdoor equipment is designed to withstand the rigors of the outdoor environment and will last many, many years.
Dock Locker(R), Space Station(TM), and Bump Blaster(R) are registered trademarks of InterMarket Technology, Inc. The Dock Locker(R) and Space Station(TM) have US Patent # D 489,460 S; and 6,854,814 B1. The Bump Blaster® has additional patents pending.
This offer ends December 15th, 2013 so visit our website now to order or call 973-872-9090.