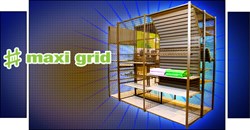 Terrell, Texas (PRWEB) November 23, 2013
Today Madix, Inc. announced a new product line, Maxi Grid. Maxi Grid is an economical and versatile shelving line that creates a unique in-store experience. This fixture concept offers numerous shelving accessories. All Maxi Grid parts and accessories are easy to install and reconfigure to effortlessly transform your store and make it unique to you. Maxi Grid allows retailers the flexibility to routinely change the shelving to fit merchandise and not waste valuable space. In fact, you can quickly remove the shelves and readjust them without removing adjacent shelves.
The unique grid structure improves merchandise visibility, making this unique system ideal for displaying everything from apparel to home goods. Simple and easy to install shelf applications include loose brackets that support melamine, laminate, or wire grid shelves. Maxi Grid has both slatwall and grid back options. Revamp the display and storage for your entire store and make it fit your needs.
About Madix, Inc.
Madix is one of the largest manufacturers of store fixtures in the world. It is based out of Terrell, Texas with manufacturing facilities also in Goodwater, Alabama and Eclectic, Alabama. Madix is known for innovative solutions that are customized to client's needs, as well as creative and unique ideas that influence trends in the industry. Additional information on Maxi Grid and our other product lines can be found at http://www.madixinc.com.