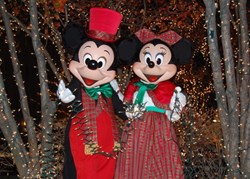 Chicago, IL (PRWEB) November 22, 2013
Arena Americas is kicking off the holiday season on Saturday, November 23, in Chicago for the 22nd year of The Magnificent Mile Lights Festival. Arena is working with the Greater North Michigan Avenue Association for the Lights Festival, which offers family friendly activities, concerts, holiday shopping, and a grand tree-lighting parade down Michigan Avenue marshaled by Mickey and Minnie Mouse. The event wraps up with a spectacular fireworks show over the Chicago River.
Arena Americas is providing a variety of rental equipment for the event. Tents, tables, chairs, linens and power generation will be used by vendors and sponsors for this world renowned and magical event which will draw an estimated 800,000 guests to the Chicago Area.
John Haener, Arena Americas' CEO said, "We are thrilled to be supporting the Lights Festival this holiday season here in Chicago. We look forward to being a rental partner with more innovative events in this great city."
Arena Americas, formerly Karl's Event Services, is a division of the Arena Group, a Global leading provider of temporary structures, seating, design and overlay services to support delivery of live events such as the London Olympics, Wimbledon, and Abu Dhabi Formula 1.
Arena Americas (http://www.arenaamericas.com) has been in the US since 1966 and recently opened an office in Chicago. Arena has provided a variety of rental equipment to Chicago events including Wavefront Music Festival, Lollapalooza, and the Chicago Marathon. Arena Americas is a full service special event rental company offering in-house design and manufacturing, custom graphics, dedicated event management teams, semi-permanent clearspan structures, frame & pole tents, temporary power, climate control, flooring, staging, lighting, tables, chairs, linens, and tabletop.