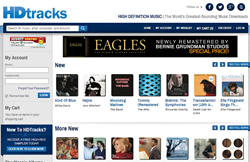 When you hear high resolution audio, it is like watching movies on the highest quality 4K 80-inch HDTV
New York, NY (PRWEB) November 22, 2013
HDTracks, the leader and pioneer in high resolution audio downloads, today launched a newly refreshed website that gives the growing number of "audio-conscious" consumers an easy way to enjoy the very best possible listening experience, in 24-bit high resolution audio quality, from both iconic bands as well as many of today's hottest new artists. Shoppers at HDTracks.com have instant access to music downloads in 24/96 and 24/192 bit/sampling rates for rich, impactful sound that harkens back to the era when music lovers cherished the experience of great-sounding vinyl record albums.
The new website features a refreshed interface with expanded download options, a streamlined check-out process, and greater customer engagement through online reviews.
HDTracks also announced the release of two of the most iconic albums in history in both 24/96 and 24/192 bit/sampling rates. The high resolution audio download of Miles Davis' Kind of Blue which is being offered for the first time sourced from the original studio tapes and Muddy Waters' best-selling blues classic Folk Singer.
As part of the release of Miles Davis' Kind of Blue in 24/96 and 24/192, HDTracks has made available a new video short featuring recording engineer, Mark Wilder (Battery Studios), and producer, Steve Berkowitz (Sony Music) chronicling the famous recording session and the remastering in high resolution audio. HDTracks' founders Norman and David Chesky were witnesses to the re-mastering session of this iconic release and appear on-screen.
Since the launch of HDTracks in 2007, the company's business has grown by more than 100% for five consecutive years, a success that mirrors the explosive, double-digit growth of high-resolution digital downloads overall. This trend in better sound has created a new ecosystem among 25-35 year-olds who are pushing back against the degraded audio quality of lossy MP3s and are looking for a better, premium listening experience.
Noted David Chesky, co-founder of HDTracks.com: "When we launched HDTracks, our mission was to unleash the '800-pound gorilla' that others in the download business literally refused to mention or sell to consumers – DRM-free CD and DVD-Audio quality downloads at the highest possible bit/sampling rates. When you hear our 24/96 or 24/192 files, it is like watching movies on the highest quality 4K 80-inch HDTV. The success of HDTracks.com proves that many of today's digital music consumers are shouting from the rooftops: 'I'm fed up with poor sound quality, and I'm not going to take it anymore!'"
Breaking with Conventional Wisdom and Starting a Trend in Better Digital Sound
HDTracks.com is the world's first high resolution audio digital download store. Breaking with conventional wisdom, the company started a major trend in high-quality music listening by re-mastering classic catalogs in high resolution audio with its partners at Sony Music Entertainment, Warner Music Group, Universal Music Group and hundreds of indie labels and distributors, offering consumers more than 10,000 high resolution albums. HDTracks.com offers new and iconic releases in 24-bit studio master quality Today, HDTracks.com is part of the record launch plan of most record companies and has access to best-selling contemporary and legendary artists like Daft Punk, Katy Perry, Beyonce, Rush, Green Day, Metallica, Paul McCartney, Prince, Willie Nelson, the Grateful Dead and many, many more. HDTracks is also the only high resolution digital download site in the world where consumers can find many of the 500 albums listed in Rolling Stone's "500 Greatest Albums of All-Time".
About HDTracks.com
Based in New York City, HDTracks.com is the leading high resolution digital download company in the world. Co-founded by David and Norman Chesky in 2008, HDTracks was the first high resolution audio download site and continues to expand its offering of music. The brothers also started one of the most popular and respected audiophile labels in the world – Chesky Records. Together they have produced more than 500 albums with highly acclaimed artists in classical, jazz, and world music. For more than twenty-five years, Chesky has been at the forefront of audio technology, having created the world's first 24-bit/96kHz recordings, 6.0 multichannel 24-bit/192kHz DVD-Audio Disc layout, 128x oversampled recordings, and Binuaral+ for 3D sound playback on both loudspeakers and headphones.
Contact:
Sara Trujillo (sara(at)trujillopr(dot)com) or Ian White (ian(at)trujillopr(dot)com) at Trujillo Public Relations.