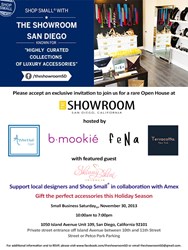 San Diego, California (PRWEB) November 22, 2013
San Diego, one of the top 10 cities for female entrepreneurs in the US, is taking another fashionable step with the launch of The Showroom, a private by-appointment-only space in the heart of East Village favorited by stylists, bloggers and fashionistas alike. The Showroom currently houses four aspirational luxury brands with deep roots in the City. United by boundless creativity and passion, the women behind The Showroom became quick friends from what started as casual meetings sharing business tips over glasses of champagne. It wasn't long before the four women decided to combine forces to become a major player in San Diego's fashion scene through a collective that became known as The Showroom.
When one enters the simple-yet-chic space off 11th and Island, you'll find Owner Yidi Xu's beautiful display of vibrant Italian-made silk scarves adorning a black textured accent wall. Yidi Xu and her New York-based business partner Alina Cheung, are the ex-investment-banker-turned-fashion-entrepreneur duo behind Terracotta New York, a women's accessories company built around an innate appreciation for menswear-inspired simplicity. The Company is currently gearing up to release their fifth collection of scarves at ENK Accessorie Circuit in New York City in January, where they will be welcoming another Spring / Summer with an array of vibrant pastel hues and ocean-themed patterns. http://www.terracottanewyork.com
Placed below the Italian-made scarves, fittingly, is another Italian-made brand from Diana Carolina of Azzurra Capri, a luxury collection of Italian handmade leather sandals featuring gems inspired by the classic allure of the Mediterranean coastline. Each unique sandal is made with certified Swarovski crystals, a trademark for the entire collection. Currently sold in luxury boutiques across the United States, as well as high-end department stores in Dubai & Qatar, Azzurra Capri plans to debut its Spring '14 collection at Saks Fifth Avenue Mexico in the coming months. http://www.azzurracapri.com
On an adjacent wall, Molly Beard, a former graphic designer and model, now the owner and exclusive jewelry designer of b.mookié, lines the shelves with her gorgeous handcrafted creations with a focus on pieces that are specific to California and her vast world travels. She pays special attention to designing a collection that provides a distinctive balance of color, texture and style. b.mookié was a recent 2013 finalist for Best Designer Jewelry in San Diego and is a member of The Manufacturing Jewelers & Suppliers of America who make professional excellence in jewelry making and design their top priority. In addition to her collection, Molly provides custom jewelry designs, offering customers the opportunity to design a truly unique and personal piece of jewelry. http://www.bmookiejewelry.com
Circling back to the very front of The Showroom, Kellyn Timmerman, an architect-turned-handbag-designer presents her collection of contemporary / classic handbags, featuring rich eco-friendly Italian leathers. The designs are on trend with a classic appeal, staying relevant season after season. Her latest endeavor, introducing a signature fragrance to the brand, can also be viewed and tested here. In just a few short years, feNa has been featured in Redbook, Essence Magazine, Forbes.com and in 2013 Kellyn landed her first International account in Dubai, her first Luxury Hotel account, and was one of the Top Nominees in the Martha Stewart American Made Contest. As of November 8th, Kellyn received two Stevie Awards for Company of the Year and Entrepreneur of the Year. http://www.feNadesigns.com
Breaking away from its normal private, appointment-only operating model, The Showroom is opening its door to the public for the first time on Saturday, November 30, 2013 in honor of Small Business Saturday® in collaboration with American Express. Guest designer Aida Takyrbasheva of Skinny Bikini Swimwear is scheduled to make a special appearance (http://www.skinnybikini.com). The Showroom jumpstarts the holiday season by bringing a highly curated collection of luxury accessories to San Diego.
See what the buzz is about:
For an exclusive look at The Showroom on November 30th, 2013 from 10:00am to 7:00pm, RSVP to theshowroomSD(at)gmail(dot)com or visit http://www.facebook.com/theshowroomSD for additional information.