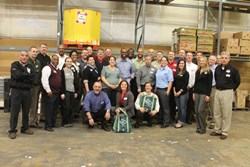 Charlotte, N.C. (PRWEB) November 21, 2013
Date: Monday, Nov. 25, 2013
Time: Noon – Press Conference
12:15 p.m. – Bag Assembly
Where: Food Bank of Central & Eastern North Carolina
3808 Tarheel Drive
Raleigh, N.C. 27609
Interviews are available. Live shots are welcomed.
Monday, Nov. 25, 2013, Former NC State and NFL stars Torry and Terrence Holt will join Harris Teeter associates to assemble 2,000 Thanksgiving dinner bags which will be given to families-in-need served by the Food Bank of Central & Eastern North Carolina. The bags will be distributed by the food bank through its network of partner agencies.
The Thanksgiving dinner bags contain products for a delicious and easy Thanksgiving meal including: a Hormel ham, stuffing, sweet potatoes, buttery mashed potatoes, corn, green beans, cranberry sauce, gravy and an apple pie.
To get the bag distribution started, the Holt Brothers and the food bank will visit First Missionary Baptist Church, on the food banks' 26 Kids Cafe sites, immediately following the bag assembly to deliver the holiday meals to children served by that Kids Cafe location.
"It's an honor for my brother and I to partner with Harris Teeter to help feed those in need across North Carolina this holiday season," said Torry Holt, President of the Holt Brothers Foundation. "We want to encourage others to step up and make a difference in their communities as well. Just like the work we are doing with Harris Teeter, we know that when we all work together, we can truly make an impact for others."
The Food Bank of Central & Eastern North Carolina launched its Kids Cafe program in 1999 with five Kids Cafe sites. The program currently supports 26 Kids Cafe sites in 25 counties, serving approximately 1,700 children.
"Hunger affects more than 560,000 individuals in our service area year round," said Peter Werbicki, President and CEO of the Food Bank of Central & Eastern North Carolina. "But we are thankful for Harris Teeter and the Holt Brothers coming together so that many can have a nice meal for the holidays."
Harris Teeter would also like to thank its generous vendors who made this donation possible: Hormel, Coca-Cola Consolidated, Idahoan Foods, McCormick, Kings Hawaiian, Bruce Foods, Libby, Del Monte, Ocean Spray, Jessie Lord Bakery and New York Packaging.
For more information about Harris Teeter's Harvest Feast, click here.
About Harris Teeter
Harris Teeter Inc., with headquarters in Matthews, N.C., is a wholly-owned subsidiary of Harris Teeter Supermarkets, Inc. (NYSE: HTSI). Harris Teeter reported 2013 sales of $4.71 billion. The regional grocery chain employs approximately 25,000 associates and operates stores in North Carolina, South Carolina, Virginia, Georgia, Tennessee, Maryland, Delaware, Florida and the District of Columbia.
About Food Bank of Central and Eastern North Carolina
The Food Bank of Central & Eastern North Carolina is a nonprofit organization that has provided food for people at risk of hunger in 34 counties in central and eastern North Carolina for more than 30 years. The Food Bank serves a network of more than 800 partner agencies such as soup kitchens, food pantries, shelters, and programs for children and adults through warehouses in Durham, Greenville, New Bern, Raleigh, the Sandhills (Southern Pines), and Wilmington. In fiscal year 2012-2013, the Food Bank distributed nearly 52 million pounds of food and non-food essentials through these agencies. Sadly, hunger remains a serious problem in central and eastern North Carolina. In these counties, more than 560,000 struggle each day to provide enough food for their families. http://www.foodbankcenc.org.
About the Holt Brothers Foundation
The Holt Brothers Foundation supports children who have a parent with cancer. Its main program, KidsCan!, provides education, emotional support, peer empathy and inspiration in partnership with four hospitals. During monthly group meetings, the kids learn about the disease and share their feelings in a safe environment. The Foundation also supports Camp Kesem North Carolina, a summer camp for children with a parent with cancer. The camp gives the children a break and allows them to just be kids. The Holt Brothers Foundation's Butterfly Grant provides an extra week of camp for children here. For more information about The Holt Brothers Foundation, visit http://www.HoltBrothersFoundation.com or call 919-787-1981.