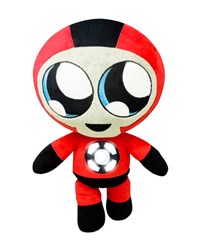 (PRWEB) November 22, 2013
Right in time for the 2013 holiday season, Brobo, an award-winning new night-light plush robot for children aged 18 months and older, is now available at fine toy retailers across Canada. Soft, safe, huggable and lovable, Brobo lights up in two modes—flashlight and nightlight—to keep toddlers and young children company at bedtime and help them overcome fears of the dark. The cuddly toy is gaining universal praise, being heralded as one of the "2013 Top Toys of the Year" by Creative Child Magazine, named as "Favorite Sleeping Toy" by Parents Canada Magazine and making Parenting Magazine's "Toys of the Year Playlist."
Through word-of-mouth and the praise of mommy bloggers across Canada and the United States, Brobo has steadily gained a dedicated fan base throughout 2013. A favorite for kids and parents alike, the snuggly robot is here to help children conquer sleepy-time. When a child swipes Brobo's hand over its chest, he activates Brobo's controllable two-mode light. Flashlight mode keeps Brobo shining bright, while night-light mode gives off a dim light perfect for nighttime. Brobo's light automatically turns off after five minutes.
Brobo is the perfect companion for bedtime reading, camping trips and slumber parties. Kids will be delighted to find any of the five collectible Brobo characters under the Christmas tree this year:

Brobo, the red robot hero with the big bright heart
Pep, the pink robot full of light-up princess power
Dog, the cuddly blue light-up puppy and Brobo's trusty sidekick
Trex, the goofy orange dinosaur pal
Mumu, the cool huggable mummy friend
About Brobo
Invented by longtime friends Jeff Lai of Toronto and Kim Blair of Calgary, Brobo is the cuddliest night-light around. Brobo retails for $34.99 and is available now online at http://brobo.com/ and at specialty toy retailers across Canada. CCPSA, CPSIA and ASTM F963-11 tested and approved, Brobo plushies maintain the highest standards of safety and quality.
###