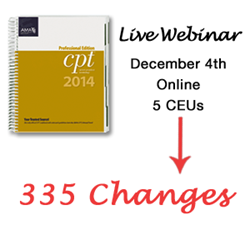 If you can't make the date, the live webinar will be recorded and available as an online self-study course worth 5 CEUs.
Alpharetta, GA (PRWEB) November 22, 2013
There are 335 CPT® code changes coming in 2014. Don't be caught by denials and rejections when these new changes go into play on January 1, 2014. Attend the Medical Management Institute's (MMI) live webinar, "2014 CPT® Changes" on December 4th, where they will cover all of the coding changes from AMA's Chicago presentation.
Details:

When: December 4th, 2013, 11am EST
Where: Online
Required Material: 2014 CPT® Book
Price: $299 for a limited time
CEU Worth: 5 ARHCP CEUs (pending approval from other organizations)
The live webinar will cover the following topics:

Overview of 2014 CPT® Changes
Deep Dive into E&M with Clinical Examples
Neurology Changes
Gastroenterology
Radiology and Radiation Oncology
Otolaryngology
Opthalmology
Cardiology and Cardiothoracic Surgery
Pathology
Psychotherapy
Vascular Surgery
General Surgery
The Medical Management Institute (MMI) is the educational leader in medical billing, coding, auditing, and management training. With over 25 years' experience and an alumni base of nearly 250,000 students, the Institute is confident our classes will provide the information you need.
To those who can't make the live webinar, it will be recorded and will be available as an online self-study course.
Click here to attend the live "2014 CPT® Changes" webinar on December 4th (11am EST).