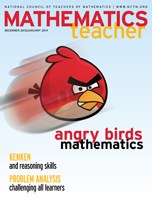 I'm a huge fan of this puzzle. - Arthur Benjamin, Professor of Mathematics, Harvey Mudd College
Pleasantville, NY (PRWEB) November 22, 2013
The NCTM's December 2013 Mathematics Teacher Journal explains how KenKen puzzles allow students to explore basic operations, factors, parity, symmetry, algebraic thinking and various problem-solving strategies....all while keeping students interested and making math fun!
This impressive article is written by three leaders in the field of mathematics and education, Professor Harold Reiter, Math Professor at UNC-Charlotte, John Thornton, PhD, Clemson and G. Patrick Venebush, Director of Mathematics for Discovery Education.
Other benefits of KenKen include improvement in critical thinking skills, math principles, logic and perseverance, all while making math fun and accessible. And it's great fun as a super-engaging and super-addictive adult brain exerciser as well.
Will_Shortz, NY Times and NPR's puzzle guru and a KenKen addict says, "Studies show that puzzle-solving helps stave off Alzheimer's disease and keep the brain limber." Unlimited KenKen puzzles of all sizes and difficulty levels can be played for free on http://www.kenken.com. Games are also available on its mobile apps for iPad, iPhone and Android as well as in over 200 publications worldwide and over 50 KenKen books.
About KenKen®
KenKen® logic puzzles were first invented in Japan by Tetsuya Miyamoto (promoted as "Kashikoku Naru Puzzle" or the "Makes You Smarter" puzzle), and then brought to the rest of world through Nextoy, LLC. With the main goal being to improve students' cognitive abilities and critical thinking skills, he developed a brain stimulating exercise that would be understandable, fun and challenging not only for students, but for adults of all ages, nationalities, and abilities as well. Today, Mr. Miyomoto's vision has become a reality as KenKen has become the world's fastest growing logic puzzle and is available online at http://www.kenken.com, in the App Store, on Google Play, and in over 200 newspapers worldwide