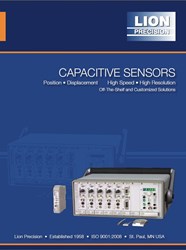 St. Paul, Minn. (PRWEB) November 22, 2013
Lion Precision has updated their capacitive displacement sensor catalog. The new version includes specification updates as well as graphic design changes. The latest version of the catalog is only available as a PDF file at this time. "In this day and age, you can update your product information much more frequently without having to reprint and redistribute hard copy," according to communication manager, Mark Kretschmar. He added, "We have new products releasing in the next few months which will justify a new printed catalog, but there is no need to wait to update our always-improving specifications."
During the company's ongoing technology develoment efforts, lessons are learned that are immediately applied to existing products. The performance of current Lion Precision products is continually enhanced as engineers and developers discover more techniques for improving sensor performance and design.
While updating the specifications, the graphic design was changed as well. The new document is cleaner and easier to read. A significant improvement in the method of listing range and resolution specifications for each capacitive sensor will simplify the process of selecting the right probe and range depending on the resolution required for each application.
The new Lion Precision Capacitive Sensor Catalog, as well as other documents, can be accessed in the Technical Library section of the Lion Precision web site or on any capacitive sensor web page.
http://www.lionprecision.com/manuals/index.html
In 1958, Lion Precision was the first company to provide capacitive noncontact displacement sensors to industry. The company has expanded its product offering to include eddy-current displacement sensors and some application specific sensors for the machine tool, packaging and PCB industries. Lion Precision is focused on assisting users in sensor implementation by providing technical knowledge resources, expert guidance and optimized systems including custom designs.
For more information, contact Lion Precision:
Lion Precision
563 Shoreview Park Road
St. Paul, MN 55126 USA
651-484-6544
http://www.lionprecision.com
info(at)lionprecision(dot)com